Smythe Returns to Make Second Run for State Senate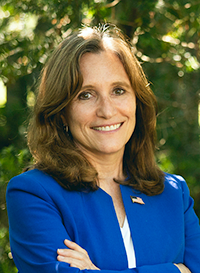 By Joan Gaylord
After losing by 688 votes to Republican state Sen. Sue Serino in 2018, Democrat Karen Smythe returns to the political fray in this year's 41st Senate District race.
Smythe said it was her frustration with how government is working – or not working – that prompted her to enter politics.
"Compromise has become a dirty word," she said. "And I'm concerned about the way that women's rights are moving backward. I realized I needed to get involved in our government, to get up off the sidelines."
The Poughkeepsie native has deep roots in Dutchess County. A graduate of Vassar College, she became the fourth generation and the first daughter to run her family's union construction business, C. B. Strain & Son.
After the family decided to sell the company, Smythe transitioned to marketing and served as the president of Beatrix Farrand Garden Association.
The issues she cares most about are the environment, women's rights, taking care of veterans, fair wages and creating a level playing field for all New Yorkers.
A step toward achieving these goals would be to take a close look at the state budget. While Gov. Andrew Cuomo is considering 20 percent spending cuts in response to the looming budget deficit, Smythe said she opposed across-the-board reductions.
"I know from running a business that you have to prioritize your spending," she said.
Smythe would prioritize state spending for education, housing and mental health programs, saying that harsh cuts in those areas would be devastating.
As communities weigh their response to conditions created by the pandemic, especially with schools and nursing homes, Smythe said government has an opportunity to evaluate recent practices to determine what has worked well and what hasn't, especially since it does not appear the pandemic will abate any time soon.
"Some schools have reopened very successfully," Smythe remarked. "What have they done differently? We need to learn from these experiences because it is important to get kids back into school."
Just as important, she said, is ensuring that schools and families have the technology they need. She noted that 26 percent of Poughkeepsie residents do not have access to affordable broadband, forcing students to learn in parking lots and libraries, a situation that exacerbates inequalities.
Smythe said she supports quality, affordable health care for all New Yorkers but isn't convinced the NY Health Act is the solution.
"I don't think we're there yet," Smythe said. "I believe more should come from the federal government. The more people involved, the cheaper it would be."
Smythe is also concerned about keeping property taxes affordable, a critically important issue for seniors who hope to stay in their houses.
However, she does not believe the tax structure can be changed quickly, especially since property taxes fund public schools. Smythe would like to see the state government explore alternate ways to fund education, which would ensure greater equity in educational opportunities.
Smythe supports legalizing adult-use recreational marijuana. She believes it would allow New York to regulate its use, bring in tax revenue and support small businesses.
"We would have to do it properly. We don't want people driving or working under the influence," she said.
Smythe said she has spoken with veterans who have found it difficult to obtain medical marijuana, which can be an effective treatment for PTSD.
"I believe we need to do everything we can do to support them," she said.
As for last year's bail reform efforts, Smythe said there has been excessive misinformation and fearmongering. The new law, she said, doesn't let criminals out of jail.
"The purpose of bail is to ensure that someone who has been accused of a crime comes back to court," Smythe said. "If the person has been accused, the label 'criminal' is not accurate."
She agreed that if a crime is egregious, the accused should not be released. What happens more often, she said, is people who can afford bail get released while those who can't sit in jail, sometimes for more than a year before their trial.
Smythe said that statistics fail to support the belief that the new law accounts for increases in crime. She points instead to the recession and rising unemployment that have made people "desperate."
On the issue of gun violence, Smythe said the state must do more to increase gun safety, working to reduce illegal guns, particularly do-it-yourself "ghost guns."
The treasurer of the VFW Auxiliary at Post 170 in Poughkeepsie, Smythe cited spiraling homelessness and suicide rates among veterans.
"Programs and policies that help veterans better integrate back into civilian life are important to me," Smythe said.
Editors Note:
State Sen. Sue Serino (R-Hyde Park), who represents the 41st Senate District, did not respond to The Examiner's requests for interviews.