Smokey Hollow Residents Irked by Proposed Cellphone Tower in Kent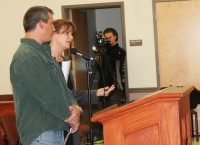 Few attended the Kent Town Board's public hearing concerning the installation of three cellphone towers on town-owned property.  The town is proposing to put up cellphone towers at its landfill, town hall/library/police department campus and at its highway department. Only the residents who live on Smokey Hollow Court across the street from the highway department spoke out and it was not against the entire scope of the project, just the highway garage location.
"When they did that balloon test I could see it from every point of my house," said Alexsandra Vaughn, a Smokey Hollow Court resident. "The only time I could not see it was when I turned my back to it." She urged the town board to reconsider the placement of that cellphone tower.
"You would not want a cellphone tower overlooking your yard," she told the board.
, who also live on Smokey Hollow Court, spoke of the roads tendency to flood and questioned why Homeland Towers, who would be the company actually installing the towers, would want to put a tower in an area prone to flooding.
Also speaking out against the highway garage location was Peter Bruenn who also lives on Smokey Hollow Court. Bruenn asked about a covenant that existed on the property that excluded certain actions. He also claimed that he had first-hand knowledge of contaminated soil found within the highway garage property as he had seen workers digging old oil tanks out of the ground while trenching was being done in the '90s.
Robert Gaudioso, the attorney from Snyder & Snyder LLP who is representing Homeland Towers, assured the town board members that all of the soil tests that have been conducted thus far have been clean, but that the company was going to continue testing. He also agreed to inform Bruenn and the other residents when other testing will occur so they can see the process.
Gaudioso also explained that while a piece of the highway department's parcel had a covenant at one time; the site for the tower is on a different lot number. Additionally the covenant was released in 1973.
Town Supervisor Kathy Doherty adjourned the public hearing until Dec. 18.
Town officials have been working on a plan to bring the cellphone towers to Kent for the past four years.
The town will receive $2000 a month in rent from each cellphone company that puts an antenna on the tower. The town is hoping to generate $50,000 in new revenue from the endeavor.