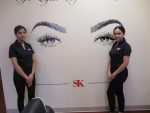 Those seeking to have facial hair work done without the use of waxes or other chemicals have a business they can go to that recently opened in northern Westchester.
SK Eyebrow is owned by Baldwin Place resident Mohan Karki, who opened the business in April in Peekskill in the Beach Shopping Center.
The manager of SK Eyebrow is Somers resident Sadi Bista, who is also an eyebrow stylist.
Bista said SK stands for the first and last name of her baby son, Shriam Karki.
Bista said the major service BK Eyebrow offers is threading. "It's a very natural process to remove the hair with a help of a thread," she explained. The process produces a nicely shaped hair without the use of chemicals, she said. "It pulls the hair from a very deep root," she said. "Threading is for the full face."
Threading can also be used on the neck and for sideburns, she said, noting the threading process typically takes four to five minutes.
Another service offered by BK is micro blading for eyebrows which is a three-hour process with the use of very small blades to make it appear the eyebrow has more hair than before the procedure, Bista said. "It looks like you have a fuller eyebrow," she said.
BK offers services for both men and women and children nine and older. Children under 16 need to be accompanied by an adult to use BK's services, Bista said.
BK customers mainly live within 40 minutes or less in driving distance from the business, Bista sad. Most of the customers come from Putnam and northern Westchester County.
Bista has been in the profession for a decade and said her work provides her with great satisfaction. "I love to do this."
Bista said her goals include upgrading the business and trying "to make customers happy."
SK Eyebrow is located in the Beach Shopping Center at 1877 Main St., Suite 5B in Peekskill. For more information, call 914-930-8356 or send an e-mail to skeyebrow@yahoo.com. It is open Mondays through Saturdays from 11 a.m. to 8 p.m. and on Sundays from 11 a.m. to 5 p.m.