Shop for Food Like a Restaurateur at Ace Endico Marketplace
By Morris Gut
It was a beautiful late summer day and we took a drive up I-684. Our destination: Ace Endico Marketplace in Brewster.
Ace Endico, founded some four decades ago by William Endico and Murray Hertzberg, has become a major wholesale food supplier and distributor to the food service and hospitality industry in the tri-state area. You may have noticed their colorful trucks over the years delivering goods throughout the region.
I enjoy alternative shopping experiences, and this was another opportunity. Ace Endico is open to the public, so on this day we decided to shop like restaurants do. We had been hearing about it through the grapevine.
Pulling up to their 200,000-square-foot main distribution warehouse was awesome. Trucks were busy loading with supplies for delivery. The retail marketplace is on the side of the facility and offers plenty of parking.
We got a shopping cart and once inside starting combing through the aisles. They were well-stocked with assorted merchandise: fruit and produce, meat and seafood, frozen foods, gourmet items, olive oils, pastas, imported goods, paper goods and more. Shoppers would be hard-pressed to find some of the products and merchandise anywhere else. You can easily locate many of the items listed on their website.
While most products were packaged in larger quantities for wholesale buyers, there were also plenty of goods sold in smaller sizes. You could pick your own fruits and vegetables, for example. You might consider forming a shopping group with friends and family and share. The best part is that many products were reasonably priced compared to mainstream markets. The staff were very helpful with our questions, too.
By the time we got to checkout, we had filled our cart with more than anticipated, and that was okay. We have since been enjoying the larder.
Ace Endico Marketplace is located at 80 International Blvd. in Brewster. Open daily. Curbside pick-up. Info: 845-230-9886 or visit www.aceendico.com.
Hearty Tavern Fare at Squire's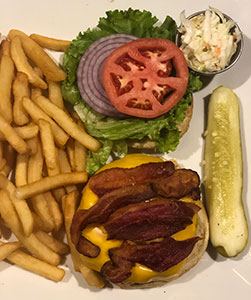 Always on the lookout for a solid vintage tavern, I pulled into the busy strip mall on North State Road, just off Route 9A, for a visit to Squire's of Briarcliff. Proprietor Kurt Knox, his family and staff have been serving patrons since 1967. No easy task in this business, for sure, and when I entered the bar and lounge area for the first time I was made to feel right at home. That's one mark of longevity, and that's the way it should be in the hospitality trade.
Why do I enjoy old venues like Squire's? The place has character and stories. Chat with staff and patrons and you often get stories filled with all the local color. A little history to go with the memorabilia on the bar and dining room walls.
In the case of Squire's, I recall hearing of their award-winning burgers year after year. So that's what I wanted on this visit. I zeroed in on the Squire's Burger topped with bacon and cheese and served on a soft bun with a mountain of fries. Their basic burger probably has not changed in years and has withstood the test of many palates over time. Mine, too, I am pleased to report. It was a retro-delish indulgence.
I came back a couple of weeks later to check out more of the menu. There are a lot of choices with no pushing of the culinary envelope. Familiar options with built-in appeal. On this visit, I decided on their steak sandwich – short rib, sauteed onions and cheese with onion rings on the side. My companion ordered the fish and chips with fries. Both were large orders and were served with the appropriate condiments and dipping sauces. The dishes satiated our hunger big time. We had enough to take home for snacking the next day.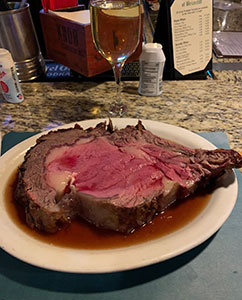 I did notice prime rib listed on the menu, but that will have to wait. Not too many restaurants serve it these days. By the time we left on this early Saturday evening, the place was filling up inside and out on the patio. The phones were ringing consistently for take-out and delivery, too.
Squire's of Briarcliff is located at 94 N. State Rd. in Briarcliff Manor. Open daily. Free parking. Info: 914-762-3376 or visit www.squiresbriarcliff.com.
Goosefeather Reopens in Tarrytown
Chef and restaurateur Dale Talde and Goosefeather are back. Talde had made a big name for himself in Park Slope, Brooklyn, with his take on pan-Asian cuisine. After closing for a time during the pandemic, his newly formed restaurant group updated Goosefeather at the lovely Tarrytown House Estate. The eatery specializes in Cantonese- and Hong Kong-inspired cuisine, including dim sum. Sounds exciting! Always on the lookout for good Asian restaurants around Westchester.
For information, visit www.goosefeatherny.com.
DeCicco to Open in Sleepy Hollow
This innovative food market chain has really been growing throughout Westchester and Putnam counties. Construction on their 11th 30,000-squre-foot operation is about to get underway in Sleepy Hollow at the site of the Edge-on-Hudson development, which formerly housed the GM plant. Plans are for the store to open by early next year.
For more information, visit www.deciccoandsons.com.
Processing Fees to Your Restaurant Bill?
Have you double checked your dining bill lately? Some restaurants have been adding what they call a "processing fee" or "convenience fee" to the final charge. It's not much, but what is it for? Some owners say it goes toward helping the staff, while others say it is meant to defray part of their credit card fees and rising costs.
While I fully empathize with all the difficulties the restaurant industry continues to experience, should this be the customer's problem? Can a patron dispute the charge and refuse to pay? Can't always carry a big load of cash around. Credit card companies should offer some slack, too. What do you think?
For those of you celebrating, have a healthy and happy Rosh Hashanah. L'Shana Tova!
Morris Gut is a restaurant marketing consultant and former restaurant trade magazine editor. He has been tracking and writing about the food and dining scene in greater Westchester for 30 years. He may be reached at 914-235-6591 or at gutreactions@optonline.net.