Shooting Woes Doom Pace Basketball Team in Home Opener
We are part of The Trust Project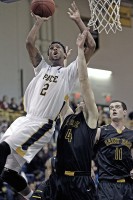 By Andy Jacobs
Just like the campus on which it plays, the Pace University men's basketball team is currently in the midst of a major renovation project that will someday soon transform its future. But progress for the Setters, as with the improved new look for the college, won't happen overnight.
That was apparent last Wednesday evening when the Setters, with 11 players who weren't even on the roster a year ago, opened up their 2014-15 home season in front of a large and enthusiastic crowd at the Goldstein Fitness Center. A first-half scoring drought that lasted over nine minutes and enabled the Saint Rose Golden Knights to run off 21 points in succession doomed Pace to a 61-43 loss in the first Northeast-10 Conference game for both teams.
"That just killed us," said Setters coach Pat Kennedy afterwards about his team's shooting woes during the huge spurt by Saint Rose. "The first half killed us. The whole team was cold as ice. Everything was bad in the first half."
The Setters wound up making just five of their 30 shots in the opening half, misfiring on all but two of their 17 attempts from 3-point range. By intermission, they had only put 12 points on the scoreboard and the Golden Knights, who never trailed all evening, had opened up a 20-point advantage.
"Their game plan worked perfectly," said Kennedy of the tactics used by the Golden Knights. "Play the zone, don't give us any second shots, make us have to make shots. And we missed all our shots."
Pace, which had begun the season on the road with a 1-2 record, found itself behind 6-0 less than two minutes into the game. The Setters missed their first seven shots from the field and went scoreless until Shelton Mickell floated through the lane for a basket more than five minutes after the opening tip. Just 30 seconds later, highly touted newcomers Mike Demello and Kyle Pearson combined on a play Setter fans hope to see often over the next couple of years – a perfect alley-oop pass that Pearson grabbed above the rim and slammed home.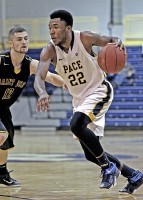 When Evan Gordinier connected on a 3-pointer out of the right corner with just over nine minutes left in the half, Pace moved to within 11-9. Unfortunately for the Setters, they then proceeded to miss their next 11 shots from the field, five of them from beyond the arc, and were outscored 21-0 in a forgettable nine-minute stretch that sealed their fate.
"We were afraid they might come out in a 2-3, which they did," said Kennedy. "We played against all man-to-man our first three games and we played really well in the tournament over at St. Thomas Aquinas against the man-to-man. So very smart move for them. They know we're very young, have a lot of freshmen out there and nine new guys. So the zone really got us standing and then, no matter what you do against the zone, if you don't make shots you're not gonna beat it."
Gordinier, a 6-5 swingman and one of six freshmen vying for playing time, ended the Setters' long scoring drought with the second of his five 3-pointers 35 seconds before halftime. He made his first two 3-point tries early in the second half and then teammate Jaylen Mann, the only returnee who got playing time last season, helped spark a brief Pace comeback bid.
After sitting on the bench the entire first half, Mann was inserted into the lineup and responded with 11 points and five rebounds in 15 minutes. The Saint Rose lead had ballooned to 45-20 just over five minutes into the second half when Mann delivered a 3-pointer from the left corner that ignited a 10-0 Setter run.
A pair of buckets by Mann and then a free throw from the 6-4 junior forward with 8:23 left narrowed the Pace deficit to 49-35. Mickell's basket just over three minutes later moved the Setters within 13 points. But that was as close as they would get as they spent the next several minutes missing all four shots they took and turning the ball over three times.
The freshmen backcourt of Demello and Bryan Rivers wound up the evening a combined 0-for-13 from the floor. Pearson, the junior transfer from FDU who had scored 25 points in the Setters' only win, finished with two points in 21 minutes and spent a lot of time stuck on the bench after twisting his ankle late in the opening half.
"Just an ankle sprain and we'll see how he is tomorrow," said Kennedy. "We're gonna need Kyle if we're gonna win games."
The Setters are also going to have to mesh in a hurry if they have any chance of qualifying for the NE-10 playoffs this season. Kennedy, in his second season at the helm, knows there's a lot of work to do before his young, inexperienced team starts to play the way he envisions it someday will.
"We almost need two more weeks of practice with nine new guys," he said. "But these guys are gonna be fine. They'll come back tomorrow and get ready to go to work. It's gonna take these guys a while to get a feel for each other."
The Setters, who closed their week with a 74-56 home loss on Saturday to New Haven despite 18 points by Mickell and 16 from a quick-healing Pearson, face Southern Connecticut State tonight (Tuesday) and host Georgian Court on Saturday at 3:30.
"I think we've got to show our speed and quickness a lot better," said Kennedy. "And we've got to be better shot makers, that's for sure."