Sheriff's School Resource Officer Receives Prestigious National Award
We are part of The Trust Project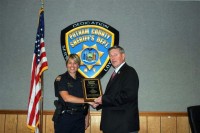 The following is a press release from the Putnam County Sheriff's Office.
Putnam County Sheriff Donald B. Smith is pleased to announce that Deputy Sheriff Corinne Pitt, the school resource officer assigned to Putnam Valley Middle and High Schools, was recently honored by the National Association of School Resource Officers for her excellence in maintaining a school resource officer program.
Deputy Pitt, an eight year veteran with the Putnam County Sheriff's Office, recently attended the annual school resource officer training conference at Orlando, Florida and was presented with a plaque in front of more than 1000 other school resource officers from throughout the United States and Guam.  The award she received recognizes Deputy Pitt "for her contribution and dedication to the school resource officer program and many children, parents and faculty members of the community and school."
Before joining the ten other certified school resource officers at the sheriff's office, Deputy Pitt was assigned to the uniformed Patrol Division.  She was also assigned to various other specialized details.  She is a graduate of Plattsburgh State University where she obtained a BA in Environmental Science.
The Putnam County Sheriff's Office has school resource officers assigned to most of the school districts in Putnam County.  Putnam Valley, Brewster, Carmel and Mahopac school districts are active participants in the school resource officer program.  These highly trained uniformed deputy sheriffs provide positive images of law enforcement while they assist in being an educator, counselor and law enforcer to school campuses.
Sheriff Smith praised Deputy Pitt for outstanding accomplishment.  "We are pleased and very proud to have Deputy Pitt as a member of the Putnam County Sheriff's Office.  No greater honor can be bestowed upon a law enforcement officer than that given to her by her peers.  She is truly a great asset to this county and particularly the Putnam Valley School District community," said Sheriff Smith.