Sew Sisters Workshop, Mount Kisco
We are part of The Trust Project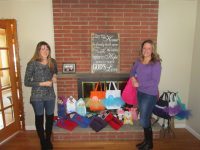 By Lisa Mockel
They like to say they're bringing a bit of the West to Westchester.
Mount Kisco resident Megan Goett and Cheryl Sabanosh of Somers recently launched Sew Sisters Workshop selling handmade items including Disney-inspired hooded towels, custom yoga mats, soft toys, frilly tutu bags, Tooth Fairy pillows and more.
The pair was introduced by a mutual friend at their Mount Kisco church about five years ago and quickly bonded over a shared love of sewing – something they call a "lost art" – canning, gardening and other do-it-yourself activities.
"It was love at first sight," Goett said of meeting Sabanosh, adding that she rarely meets anyone who sews nowadays. "And luckily the husbands get along too!"
Within six months of meeting, Sabanosh had recruited Goett to accompany her on one of her trips to Pennsylvania's Amish country where she likes to explore the area's many fabric shops in search of high quality material for her crafts. Eventually the trips became annual family vacations, with Sabanosh, Goett and their husbands and children renting a house together for a week.
Sewing was something Goett and Sabanosh enjoyed most growing up in their native states of Wisconsin and Idaho, respectively. That continued into adulthood, a beloved pastime that has produced handmade special occasion outfits and toys for their children, personalized gifts for family and one-of-a-kind party favors, including personalized superhero capes, for their kids' friends.
Others took notice of the quality of the items Goett and Sabanosh were making and encouraged them to start their own business.
Using sewing and embroidery machines and employing techniques such as double stitching and serging to ensure durability, they can have most items shipped within a week.
After opening their Etsy shop in November, they were excited to receive their first online order from a woman in Arkansas.
"It was truly validation having people you don't know see something you made and want to buy it," Goett said.
The "sisters" say sewing also helps keep them connected to their roots.
"My mom was always crafting, scrapbooking – she crochets a lot – sewing, a lot of hand embroidery, she was always doing something," Sabanosh said "I just grew up around it."
Sabanosh, who moved to the East Coast in 2000 to become a Connecticut family's nanny, recalled the joy she felt stitching together her own volleyball-emblazoned sweatshirt in a sixth-grade home economics class.
"It was my first project. We had four pieces we attached together and we got to choose the middle piece…I wore it forever. It was so ugly but I wore it forever," she said. "I loved that class."
Goett, who has lived in Mount Kisco for about 10 years, remembers sewing with her grandmother in California and watching her mom mend clothes on an old Singer sewing machine.
Describing herself as having been a "practical 16-year-old," she volunteered in her high school's theater department costume shop. There she helped make, modify and mend costumes for the school's stage productions.
That experience would help her gain admission to the University of Wisconsin where she majored in apparel design. The school offered an option to complete the last year of the program at New York's Fashion Institute of Technology (FIT).
Goett jumped at the opportunity to move to Manhattan to complete her education, citing the limited fashion opportunities in Wisconsin. After graduating, she worked in the industry for several years, focusing on clothing and textile design. She is currently a stay-at-home mom to her daughter Norah, 8, and son Riley, 6.
Sabanosh, a Somers resident since 2004, manages a pediatric dental practice in Connecticut while raising her daughter Morgan, 7, and son Ryan, 4. She said she and Goett aren't looking to become wealthy off their new venture. They just want to continue doing what they love – and maybe one more thing.
"Our original joke was if we could just make enough to pay for our Amish country trips each year," she laughed.
For more information, visit www.etsy.com/shop/SewSistersWorkshop.