Seven Honored at White Plains Police Ceremony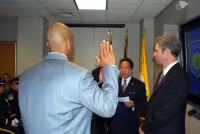 At a ceremony at White Plains Public Safety headquarters Friday morning, Public Safety Commissioner David Chong and Mayor Tom Roach were joined by dozens of police officers as the department celebrated the hiring of two new officers, promotion of three others and the appointment of an honorary police chaplain and an auxiliary officer.
Rev. Erwin Trollinger from Calvary Baptist Church was named honorary police chaplain, a position open since Rev. Lester Cousin retired last year. Reginald Zomara was appointed to the auxiliary police department, while Sgt. Todd Moskalik was promoted to lieutenant, Det. Antonio Nolletti was promoted to sergeant and Police Officer Andrew Harrington was promoted to detective. Recruits Marc D'Annibale and Matthew Johnson were both officially hired as police officers.