Set in Stone, Pleasantville
We are part of The Trust Project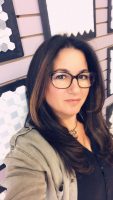 If you're looking to renovate your kitchen or bathroom with the kind of tiling that will look great and also complement your personal style, a visit to Set in Stone in Pleasantville is a must.
Owned by Wendy Tufo, this new store is beautiful to step into. It's also where Tufo can work her magic and help customers go through the difficult process of choosing the right product for whatever area of the house they choose to decorate.
The store feels more like a gallery space, with ceramic, porcelain, cement, mosaics, glass, marble and quartz tiles expertly arranged on the walls.
"I wanted the store to be visual, where customers could take in the whole experience," explained Tufo, who has been in the tile industry for 18 years, having worked for high-end stores Walker Zanger and Klaffs.
She chose the boutique-style layout after she saw how customers became quickly overwhelmed in larger showrooms.
At Set in Stone, which opened Mar. 1, Tufo offers a wide selection of tile, some considered trendy, other timeless, along with classic brands, that customers can focus on without distraction. There are tiles for the high-end user as well as the more economically conscious.
"I didn't want to cater specifically to the affluent customer," she said. "Anyone can come in here and select tile for their kitchen or bathroom and find a price that suits their budget."
She's also happy to guide customers through the process of choosing the right tile for their project.
Set in Stone carries European and American-made products. Many of Tufo's porcelain tiles come from Spain and Italy, she said, and are excellent choices for powder rooms, bathrooms, feature rooms and other areas. Some of the brands you'll find at Set in Stone include Compaq, The Surfaces Company, a Spanish tile business that manufactures marble and quartz surface coverings, European Alleanza Quartz and Aurea Stone.
"I really enjoy the creative aspect of it," Tufo said. "Helping clients from concept to completion is very gratifying."
Tufo said she asks her customers if they have any concepts or color schemes in mind. From there, she suggests a number of design ideas.
"I always want to make sure that my customers are making the 100 percent sure decision," she said.
While some may want to renovate a kitchen or bathroom to help them sell their house, others want to update a space for their own enjoyment, she said.
"I try to bring them into the future, to perhaps choose something that's timeless, classic and that they'll never tire of."
Set in Stone is located at 71 Wheeler Ave. in Pleasantville. It is open Tuesday through Friday from 10 a.m. to 6 p.m. and on Saturday from 10 a.m. to 4 p.m. For more information, call 914-801-0271 or visit set-in-stone-pleasantville-ny.business.site.
Colette Connolly is a copywriter and p.r. expert. She owns Connolly Communications, which is based in Bronxville, New York. Colette specializes in providing content-rich, SEO-optimized press releases, articles, newsletters, brochures, and customer success stories.