Sesame Street's "Maria" To Speak at YWCA Luncheon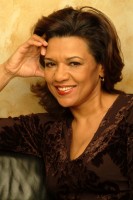 Sonia Manzano, known by many as "Maria" from the popular children's TV series "Sesame Street," will give the keynote presentation at this year's YWCA annual luncheon, "In the Company of Women."
Manzano, who has affected the lives of millions of parents and children in the role of Maria, is a first-generation Puerto Rican.  She has received the Congressional Hispanic Caucus Award, the Hispanic Heritage Award for Education and was voted one of the most influential Hispanics by  People Magazine en Espanol in February 2007. Manzano, who has 15 Emmy Awards to date as part of the Sesame Street writing staff, was twice nominated for an Emmy Award as Outstanding Performer in a Children's Series, and was voted Volunteer of the Year by Project Sunshine in 2009.
In an interview with The White Plains Examiner, Manzano said: "In 1969, when I was invited to join the cast of Sesame Street, we had the feeling we could change the world. I was working with such a diverse group of people on the show. Not only were we concerned about elevating the place of women in society, we had a mission to show that children live in urban environments as well as in the suburbs, and that English was not the only language being spoken. We felt that Americans should know that there were Latinos and other minorities living in this country."
Manzano has written several children's books based on her life growing up in the South Bronx. "I believe that by sharing my experiences, children will learn something," she said. Manzano has a new book coming out this September titled "The Revolution of Evelyn Serrano." She would not elaborate on the story line.
As far as women's roles in today's society, Manzano says women are now relating to each other. "They are not reacting to what men would do," she says. "Women get together and they make connections. That is what we will be doing at this luncheon," she considers, adding that she is looking forward to the event.
Regarding role models for girls today, Manzano loves Katnis Everdeen, the main character of the "Hunger Games." "The girl solves the problems. She is the heroine of the book. I also like the "Girl with the Dragon Tattoo" for similar reasons," Manzano says.
YWCA's In the Company of Women luncheon also recognizes local champions – women and men who through their professional, personal and community commitments, have demonstrated leadership on behalf of the YWCA's mission to eliminate racism and empower women. This year's honorees are Suzanne Clary, president of the Jay Heritage Center, recognized as Leader of Distinction; Lee Lasberg, President of Lasberg Construction Associates, Inc. as Community Champion; and Dr. Pauline Mosley, Associate Professor, Information Technology at Pace University as Woman in Technology.
The 2012 event co-chairs are Karen V. Hill, president of The Harriet Tubman Home, and Patricia Mulqueen, manager, Westchester Public Affairs at Con Edison. The 2012 honorary chair is Ruth Mahoney, president, Hudson Valley/Metro NY, Key Bank. In the Company of Women is being held at the Rye Town Hilton on Friday, May 11. Individual tickets are $150.  For more information, call 914-949-6227 or email events@ywcapcw.org.