News Based on facts, either observed and verified directly by the reporter, or reported and verified from knowledgeable sources.
Senior Night Heartbreak for Fox Lane; Pleasantville Rolls
We are part of The Trust Project
By Hannah Getman & Jon Martirano, Examiner Interns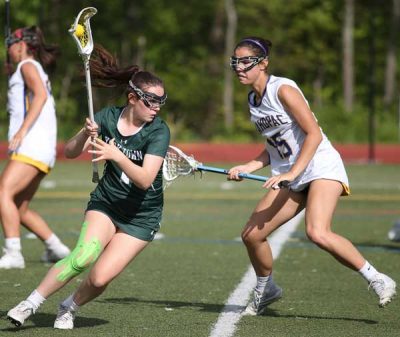 It was not a typical senior night for FOX LANE. Most teams would pick an opponent they know they can beat, but not the Foxes. The Foxes (9-7) ranked 5th in Class B took on the Mamaroneck Tigers (7-9) ranked 4th in Class A. The game was fast-paced from the opening face-off with the Tigers scoring an early goal just 30 seconds into the game before finishing with a 12-11 victory last Thursday.
Zoe Stonecipher, playing attack for the Foxes, quickly answered with her own goal just 45 seconds later. The Tigers answered with three goals of their own, making the game look over early. But, the Foxes fought back, with Cora Moore scoring to make the score 4-2 and then taking a foul while shooting and earning a free shot, which she nailed to put the Foxes within one goal. The Tigers quickly scored again, but following back-to-back saves from G Mackenzie
Matson, another goal from Fox Cora Moore, and two goals from teammate McKayla Kalstas, the teams found themselves tied 6-6 going into halftime.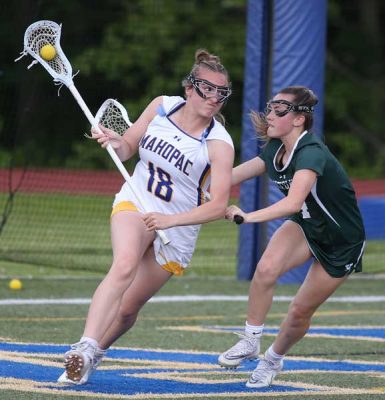 Both teams came out of the half fired up, with even more energy than before. Kalstas quickly scored again for the Foxes, but the Tigers weren't going down without a fight, scoring three goals in a row to put them up 10-7. The Fox Lane offense turned on the jets, missing three shots but finally scoring with a goal from Riley New, after a great assist from senior Maddie Broghammer. The teams continued to trade shots back and forth, ending up tied with just 10 minutes left in the game. Kamiryn Boniello took matters into her own hands for the Foxes, intercepting a poor Mamaorneck pass and taking the ball all the way down the field to score and give the Foxes the lead. With five minutes left in the game, the Tigers tied it up and then scored again with just 1:30 left on the clock for the game-winning goal.
"We stepped up our communication game big time," Mamaroneck goalie, Maya Duthie, said, "We really did a great job staying loud throughout the game and keeping our energy up even when we were down. I'm really proud of the way we played today."
Both teams wrapped up their regular season with this game and will look forward to the playoffs where the fourth-seeded Tigers will face No.5 White Plains (6-10) and the fifth-seeded Foxes will face No.4 Ursuline.
CLASS D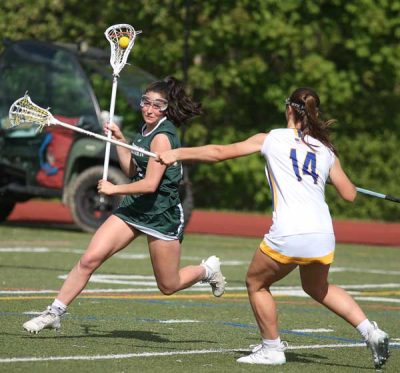 PLEASANTVILLE improved to 11-5 with a win 13-4 against PUTNAM VALLEY. The Putnam Valley Tigers came in ranked 15th in Class D and faced a big challenge missing three of their starters, including their goalie, against a talented Pleasantville squad. The Tigers came in with their heads held high and a strong attitude but neither proved strong enough to defeat Pleasantville. The Panthers scored early and often, their first goal coming just 30 seconds into the game when Gianna Doto found the back of the net. Their dominance continued led by strong performances from Faith Brown with four goals and Kayla Collins with two goals and three assists.
Both Pleasantville goalies, Ciara McCarthy and Ava Berkowitz, had three and five saves, respectively. For the Tigers, Captain Ava Harman had a goal and an assist, Emily Nielsen, Maryava Carducci, and Lilly Johnson all had one goal each. Goalie Izzy Albano stepped up as well with nine saves. Looking ahead, the third-seeded Panthers will face No.14 Rye Neck in the first round of the Section 1 playoffs while 15th-seeded PV will open against No.2 Bronxville, among the finest programs in the section.
CLASS B/C
Undefeated no more! The HEN HUD Sailors won in triple overtime 6-5 to hand the John Jay CR Wolves their first loss of the season.
Sophomore Kayla Mccarthy scored the first goal of the game, and gave Hen Hud an early 1-0 lead 5 minutes in. However, JJCR would respond quickly with a goal to tie the game at 1. At 15:50, the Sailors regained their lead, from eighth grader Carliegh Ortiz off a penalty shot to make it 2-1 and then McCarhty would score her second at 11:50 with a cheeky top left shot to give the Sailors a 3-1 lead. The Wolves would not back down as they put pressure on the Sailors defense, with a goal to cut the lead to within one from senior Mia Puccio. The Wolves would continue their attack and at 5:48, they would get back-to-back penalty shots, but Hen Hud goaltender senior Madison Porter made two huge saves to keep her team ahead. With 3:00 minutes to go, Hen Hud would add to their lead with a goal from senior Katherine Couch to make it 4-2 heading into the second half.
In the second half, the Wolves would show why they're the top team as they scored three unanswered goals in the first five minutes with two from Joey Degl to take the Hen Hud lead right from their hands. The Wolves and Sailors would continue to battle and get key chances, but each goalie made big saves to keep the game at 5-4. However, with 1:46 remaining, the Sailors were given a penalty shot and they would tie the game at 5-5. John Jay had one last attack with multiple grade-A chances, but Porter made huge saves, including one with eight seconds left to keep the game tied as it went into OT.
Porter would continue to make huge saves in all three overtimes, and with 2:14 remaining in the third OT, Porter's saves would pay off as senior Caroline Clark would score off a rebound on a penalty shot to beat JJCR, 6-5, in triple OT.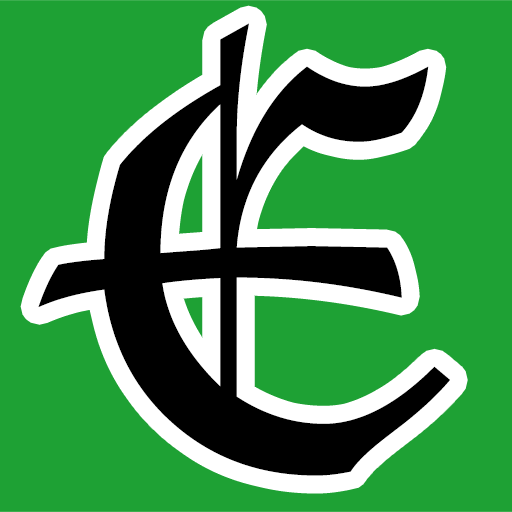 Examiner Media – Keeping you informed with professionally-reported local news, features, and sports coverage.