Self-Storage Facility Proposed For Former Toys "R" Us Building In Yorktown
After sitting vacant for over two years, the former Toys "R" Us building in Jefferson Valley could soon be redeveloped into a self-storage facility.
Plans submitted to Yorktown officials from Hanlon Architects in July calls for the construction of a CubeSmart Self Storage on the 3.6 acres of land. The 45,000 square-foot building, located at 621 Bank Street near Route 6, would require a zoning amendment to make the facility a main use in the C-1 zone.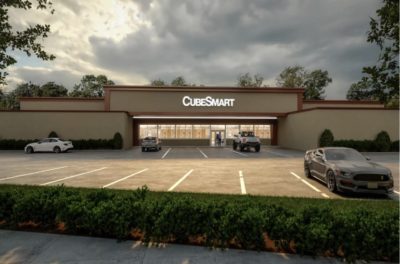 The zoning currently allows for self-storage when there is an established main use, planning officials said. The code further states that self-storage facilities can only be conducted in a space served by loading docks and accessed from portions of the building not visible from the main frontage of the site.
Despite the code, officials believe it's time for that to change.
"Self-storage, like many businesses, is evolving," Yorktown Planning Director John Tegeder said during the Town Board's Sept. 8 work session. "The product, in terms of how the buildings are constructed, has evolved from what we used to expect to much more well-designed and interior loaded self-storage facilities."
He added that building wouldn't look like a mental warehouse, but instead something with nice architecture on each street front. Tegeder noted a high quality facility would likely entice more customers to use it.
Officials agreed amending the town code to allow for this use would be an appropriate step forward to fill the storefront. The building was made vacant in 2018 when Toys "R" Us shuttered its doors after the retailer filed for bankruptcy the year prior.
Councilman Vishnu Patel said the project would be a nice addition to the town, while Councilwoman Alice Roker explained the zoning should accommodate the type of use self-storage facilities offer.
"People use self-storage very differently than they used to use self-storage 20 years ago," Roker said. "It's a different animal today than what the code provided for."
A draft of the text amendment is expected to go before the Town Board Tuesday night. Once reviewed, officials will send it to all other boards for comment, and eventually subject to a public hearing. The proposal also requires an amended site plan approval from the Planning Board.