Second Mount Pleasant Day Slated for Aug. 16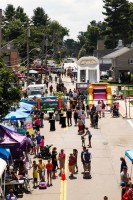 The popular Mount Pleasant Day is back again on Aug. 16.
The second annual street fair and car show is slated for noon to 5 p.m. on Elwood Avenue near the Hawthorne Metro-North station.
The event is being sponsored by the Hawthorne Fire Department and the Thornwood-Hawthorne Chamber of Commerce.
Admission is free.
"The idea came from the Hawthorne Fire Department.," Chamber of Commerce President Aimee Nichols said last week. "It was a huge success."
Mount Pleasant day provides a place for "everybody to get together" in town, Nichols said.
The event will feature a variety of foods for sale, rides, giveaways and tables featuring representatives of local businesses and civic organizations. One of the new features of this year's event will be performances by an Elvis Presley imitator.
Proceeds for the fees businesses pay to have a table at the event will be donated to the fire department, Nichols noted.
Portions of Ellwood Avenue will be closed during the event, Nichols said.
The rain date is Aug. 23.
For more information send an e-mail to info@thornwood-hawthornechamber.org or call Sal at 914-494-9633 or Aimee at 914-804-2095.