Sean Kilpatrick Comes Home with the 87ers to Play the Westchester Knicks
We are part of The Trust Project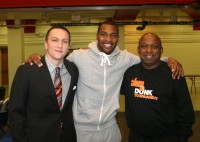 When Sean Kilpatrick walks onto the basketball court in Gardella Park, on Ferris Avenue, in White Plains, he is considered the King of the Court. At White Plains High School he is a basketball legend and at the University of Cincinnati, he graduated as an NCAA Division 1 Basketball First Team All-American.
Kilpatrick was born in Yonkers and moved to White Plains when he was 12 years old. He grew-up under the guidance of his mother Regina Williams and his grandmother Evelyn Kilpatrick, while developing his basketball prowess under legendary Tigers Head Coach Spencer Mayfield.
Kilpatrick is the second All-Time Leading Scorer for Boys basketball at White Plains High School and led the Tigers to the Section 1 AA Championship Game in 2007. Kilpatrick, along with his high flying teammates R'Shad James and Spencer Smith, alongside inside muscle-man Rishawn Johnson, crafty ball handler Jamell Cromartie and workhorses Christian Nunez, Sean Brooks and Jordan Griffith, recorded a 21-3 record, during the 2006-07 season. However, they lost to Mt. Vernon High School in the Section 1 AA Championship Game.
Kilpatrick graduated from Cincinnati, last year, after scoring 2,145 points. The Ferris Avenue resident departed the Bearcats as their second All-Time Leading Scorer, surpassed only by "Mr. Bearcats Basketball" himself, "The Big O" Oscar Robertson with 2,973 points.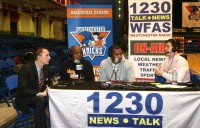 Unfortunately and unexplainably, Kilpatrick a First Team All-American, John Wooden Award Finalist and Naismith Trophy Semifinalist, just to name a few NCAA accolades, did not get drafted in the 2014 NBA Draft.
The WPHS 2008 graduate could have opted to take his skills to Europe and earn a hefty salary. However, he decided to remain stateside and hone his skills in the NBA Developmental League in pursuit of his NBA dream. "My agent keeps telling me, just stick at it, stick at it and everything is going to work out," said Kilpatrick.
Kilpatrick played on the Philadelphia 76ers Summer League Team this past summer, which led to him being signed by the Golden State Warriors as an unrestricted free agent. The Warriors waived Kilpatrick on October 30, but he was acquired by the Warriors NBA Developmental League affiliate, the Santa Cruz Warriors, on November 3, 2014.
As the Westchester Knicks were not going to host the Western Division Warriors this season, hope for local fans to see their high school basketball hero playing professionally were diminished. But on January 23, Kilpatrick was traded to the Delaware 87ers, the NBA affiliate of the Philadelphia 76ers, who were scheduled to play the local Knicks, on February 6.
Kilpatrick returned, with much fan-fare, to the Westchester County Center with the 87ers to play the Westchester Knicks, on Friday, Feb. 6. "It feels great to be back. It is amazing to come back to this arena and play in front of my family and friends. It is something really big not only for me and the 87ers but for the City of White Plains," stated Kilpatrick.
Before the local Knicks (9-21) ended their seven-game losing streak by beating the Warriors, 126-101; Kilpatrick was a guest on the WFAS-1230 A.M. radio show from 12-2 p.m. broadcasted from the County Center.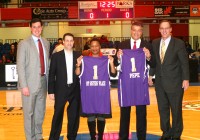 Ironically, one of the hosts of the weekly Westchester Knicks radio show is White Plains native Jordan Griffith, who played with Kilpatrick at WPHS. Griffith is also the WFAS color commentator for the Westchester Knicks games.
Griffith stayed in close contact with his friend "SK" as he calls Kilpatrick, and spoke about their high school experiences on the radio show. "Coming into the 2007 season our goal was to make it to the County Center and win the Gold Ball, but we came up one game short," said Griffith. "SK and R'Shad James were catalysts for us, especially Sean. You could just see flashes of greatness and knew he could be really good," recalled Griffith. James presently plays with the Reno Bighorns, the NBA D-League affiliate of the Sacramento Kings.
Also joining the show on WFAS was Mayfield, Kilpatrick's high school coach. At one point during the show, Mayfield, Griffith and Kilpatrick reminisced about the fun days with the Tigers. "It is great to see Sean, just seeing him and touching him, I feel my high school team is going to win a few games now," said Mayfield with a smile.
Kilpatrick did not have a good shooting game that evening, while scoring seven points on 2-of-10 shooting but he did make 3-of-3 foul shots. The White Plains phenom also did not make any of his trademark three-point shots, while going 0-for-3 from the arc. Maybe it was the excitement of the day surrounding his homecoming that affected his game. However, Kilpatrick is having a good quality D-League season, while averaging 11.6 points, 3.2 rebounds and nearly two assist per game.
Kilpatrick was greeted at the County Center by a multitude of local fans, including his mother Regina Williams, his four-year old daughter Bailey Kilpatrick, his grandmother Evelyn, former Tigers teammates Sean Brooks and Christian Nunez, Coach Mayfield, White Plains sports historian Don Gano and many WPHS former and present students and employees.
Kilpatrick celebrated his 25th birthday, on January 6. He hopes his next birthday well be marked while playing in the NBA. If Kilpatrick is not traded from the 87ers or called-up to the NBA, family, friends and local fans will be able to welcome him home again, as the Westchester Knicks have a rematch with the Delaware 87ers, at the County Center, on Saturday, March 7, at 7 p.m.