School Supply Drive to Benefit Neighbors Link
We are part of The Trust Project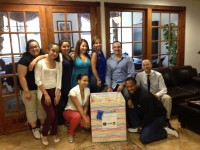 With the start of the school year creeping back into children's and parents' thoughts, local businesses are pushing to help students and their families in need.
Multiple White Plains businesses are hosting a community-wide school supply drive to help children have all the materials they need once the new school year gets underway in September. The first annual School Supplies Drive has boxes all throughout the city, with people encouraged to donate any supplies they can offer.
Jane Fogelson, of the law firm Markhoff & Mittman and the organizer of the event, said after many of the same businesses had a holiday food drive last year, they decided to put together another drive that would contribute to the community. With school supply costs continuing to rise, Fogelson noted how critical it is to give every child the chance to feel prepared.
"Not only the supplies itself," Fogelson said, "but it's really important to get the kids off to a good start with the school year, to feel good about themselves, self-confidence."
The drive started July 26 and will last until Aug. 14. From there, the businesses will deliver the supplies to a Mt. Kisco–based group called Neighbor's Link. Any school supplies are welcomed, including pens, pencils, crayons, rulers, glue sticks, erasers, notebooks, binders, loose-leaf paper and backpacks.
Fogelson said she doesn't want anyone to think that his or her contribution wouldn't be big enough. She said anything that a family can offer goes a long way. Initially, the drive was just going to focus on backpacks, but ultimately it was decided that the more options people could donate, the better.
"The most important thing is the families we are donating the items to will be grateful for anything," Fogelson said. "There is such a need."
Drop-off locations are:
Calano & Culhane, 14 Mamaroneck Ave., 3rd Floor, White Plains
Cohen & Siegel, 14 Mamaroneck Ave., 4th Floor, White Plains
Curan & Ahlers, 14 Mamaroneck Ave., 2nd Floor, White Plains
Delgado & Delgado, 300 Martine Ave., Suite 2K, White Plains
Dr. DeLa Cruz, 176 Grand St., White Plains
Dr. Robert Reiss, 40 Triangle Center, Suite 215, Yorktown Heights
Dr. Sheldon Manspeizer, 1 Greenridge Ave., White Plains
Global Financial, 14 Mamaroneck Ave., 3rd Floor, White Plains
Law Office of Michael L. Varon, 14 Mamaroneck Ave., 4th Floor, White Plains
Lever & Stolzenberg, 303 Old Tarrytown Rd., Suite 2, White Plains
Markhoff & Mittman, 14 Mamaroneck Ave., 2nd Floor, White Plains