School Officials to State: Wait to Get Education Bill Right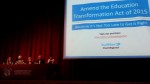 With only weeks left in the current state legislative session, Westchester and Putnam school officials are urging lawmakers to halt the proposed Education Transformation Act of 2015.
At a Thursday morning press conference at Harrison High School, parents and school officials from more than 40 districts across the two counties demanded the immediate suspension of Gov. Andrew Cuomo's recent education bill, which in part deals with teacher evaluations, the use of state testing and teacher tenure. A group of local superintendents is also asking that the state use experts to develop a high quality and research-based teacher evaluation system.
"School superintendents…are in favor of rigorous accountability. They're in favor of meaningful kinds of assessments for kids," said Harrison Schools Superintendent Louis Wool. "What we're not in favor of is this misguided, misinformed, completely misaligned-from-research reform that we have been forced to follow. It is unfair, it's ineffective and today we said no more."
A panel of superintendents from six Westchester districts referred to the current education situation as a "crisis" detrimental to students that will negatively alter the teaching profession. Wool said state tests, which will count for at least half of a teacher's Annual Professional Performance Review (APPR) score under Cuomo's reform, are given too much weight.
Wool recalled his experience as a teacher, which focused on interaction with students, lesson planning and collaboration with colleagues and parents. Now a teacher's effectiveness will be rated on state test scores and two observation periods, he said.
Under the system, which educators said is flawed, teachers can be rated as ineffective, developing, effective or highly effective. New teachers who receive a score of ineffective or developing for two consecutive years would automatically be fired.
Superintendents at Thursday's press conference noted that multiple tools must be used to evaluate a teacher's effectiveness. A previous recommendation was made to include conferences, student surveys and student projects but Cuomo's legislation excludes those criteria from consideration.
Pleasantville Superintendent of Schools Mary Fox-Alter explained that the current system uses preordained conclusions. When superintendents, parents and teachers have made comments, their words have been taken out of context in order to fit this conclusion, Fox-Alter said.
She also stated that cut scores used to grade standardized tests are set up to guarantee a certain number of students will fail.
Byram Hills Superintendent Dr. William Donahue noted that with so much emphasis placed on standardized tests, teachers will soon become accountable to Albany rather than parents. Educators fear the system would eliminate creativity and innovation in schools and teachers would stop encouraging students to take risks by enrolling in challenging classes because their performance could be detrimental to a teacher's career.
"No one is going to be willing to try something new, try something different, to put students into opportunities that they haven't had before because the worry and the fear is going to be dramatic for them," said Ardsley Superintendent Lauren Allen.
Donahue said the changes will ultimately have an impact on property values, which are closely tied to the quality of public schools.
Parents noted that greater emphasis on testing is already negatively impacting the youngest students. Lisa Eggert-Litvin, co-chair of the New York Suburban Consortium for Public Education and co-president of the Hastings-on-Hudson PTSA, said there's been a reduction in school play time for kindergartners because more time is needed to focus on testing.
"What we are hearing, especially at the elementary level, is children saying 'I don't want to go to school, I don't like it,'" she said.
More than 200,000 parents statewide exercised their option to keep their children from sitting for the state ELA and Math tests in April. Valhalla School District Superintendent Dr. Brenda Myers said officials have been told that the opt-out won't affect APPR scores, which runs counter to research and common sense regarding data usage.
Wool said that while superintendents will continue to follow policies implemented by government, they have a responsibility to advocate against policies they disagree with. Superintendents are urging residents to send letters to their state officials and educate friends and neighbors about the issues. Residents are also being asked to sign an online petition calling on elected officials to suspend and amend the Education Transformation Act. The petition, which can be accessed by visiting http://bit.ly/GetItRightNY, had more than 600 signatures at the time of the press conference.
Several New York legislators are already supporting suspension of the Education Transformation Act. Although local state representative were unable to attend Thursday's event, they sent a representative, Nancy Fisher, to speak on their behalf. Reading from a statement penned by lawmakers from Westchester, Dutchess, Putnam and Suffolk counties, including Westchester Assembly members Tom Abinanti, Amy Paulin and David Buchwald, Fisher said they support a one-year delay in the implementation of new state Education Department regulations and call for a research-based evaluation system that utilizes multiple types of student data.
"Allowing for a delay gives the legislature the time to create a meaningful teacher/principal evaluation system without going through multiple unnecessary stages," Fisher said.
Stephen Jambor, president of the Brewster Board of Education, said he believes it will take at least two years to create a proper teacher evaluation system and collect enough data to prove that it is effective and fair.
"The people of New York need to put the burden of proof back in Albany before they start rolling out any more of this Mickey Mouse stuff because it's causing children–our children–to suffer unnecessarily, and that's not the purpose of education," Jambor said.