Sayegh Swipes Leg. 8 Seat from LoBue
We are part of The Trust Project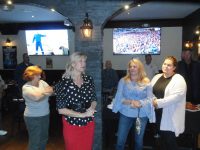 Residents in District 8 of the Putnam County Legislature will have a new representative starting next year.
Mahopac resident Amy Sayegh toppled incumbent lawmaker Dini LoBue last Tuesday during a GOP primary and also secured the Conservative Party and Independence Party lines to effectively and stunningly end the race. Sayegh found a path to victory after losing to LoBue three years ago in a GOP competition for the seat.
Sayegh, who was the endorsed candidate, collected 57 percent of the Republican vote (364) while LoBue only got 42 percent of the vote (271). The seat represents part of Mahopac.
"I'm humbled, honored and thankful," Sayegh said shortly after results rolled in at Patrick's Pub in Mahopac. "I'm excited to get to work now."
Sayegh said she learned from her mistakes three years ago when she lost to LoBue and was more focused this time around. Sayegh said she learned in order to win she had to really want it and picture having success. The only days Sayegh said she took off were on days it rained and she couldn't go door-to-door talking to voters.
"I just worked my tail off, I didn't stop," Sayegh said. "Non-stop."
She vowed to constituents, "As hard as I worked for this win, is as hard as I'll work for our district."
LoBue has been the longest serving county legislator on the lawmaking body. LoBue said during her tenure on the county Legislature, she went against the grain to protect taxpayers. She slammed her opponents for waging a campaign that was "mean spirited" filled with viscous personal attacks.
"To distort, twist my record and call me a fraud is unacceptable and unbecoming of our Republican Party," LoBue said. "Unfortunately, this is the direction politics in the county is heading and the tone being set by the County Executive and our political leaders."
LoBue over the past several years was a permanent thorn in the side of the county executive's administration and battled many of her colleagues over policies and spending. Many times she was the sole voice of dissent that frustrated fellow lawmakers.
She fears once she leaves the board at the end of the year, spending will only increase.
"The voters did not realize what they have done to themselves as taxpayers," LoBue said. "Now there will be no constraints on spending, safeguards, or even inquiries into county government proceedings."
On hand supporting Sayegh included legislators Carl Albano, Joe Castellano, Paul Jonke and Bill Gouldman. Sheriff Don Smith and state Assemblyman Kevin Byrne were also on hand.
Albano, who has battled many times with LoBue, called Sayegh an amazing person who has a lot of energy and will be a positive addition to the legislature. He said if LoBue won, it would have been her final term because of term limits.
"She was in her third term so it was close to a time when things were going to change inevitably anyway so this is a little early and that's the way politics are," Albano said
Putnam GOP committee chairman Tony Scannapieco appeared later on to congratulate Sayegh. In an interview, Scannapieco said he believes the GOP endorsement for Sayegh was one of the reasons she was able to beat an entrenched incumbent.
Scannapieco said he's spoken with LoBue in the past about being more cordial with other legislators regardless of how she voted, but she didn't listen. He chided her for claiming in advertisements that she was the Republican endorsed candidate.
"That was a total lie," Scannapieco said. "I don't like that, I don't like that atall."