Saw Mill Club Café By Myong Gourmet, Mt. Kisco
We are part of The Trust Project
Self-taught executive chef and entrepreneur Myong Feiner has taken her talents to the Saw Mill Club, offering an array of healthy snacks as well as lunch and breakfast specials for gym patrons and other visitors to the popular health and fitness facility.
The versatile businesswoman, who previously operated Myong Gourmet on Mount Kisco's East Main Street with her late husband Rob Feiner, made the transition to open the Saw Mill Club Café last month.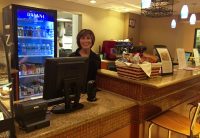 Visitors to the second-floor eatery can expect more of what Feiner created in her former restaurant, including an array of vibrant dishes you won't find at other gym cafes.
While she is still in the process of refining the menu, Feiner is working hard to add to the delectable fare already available.
"I already have a lot of followers," said Feiner, referring to the many club members who have been her customers over the years.
Feiner, a native of South Korea, made a name for herself as a food connoisseur in the early 2000s when she created a line of soups and sauces. From there, she began teaching others how to cook. She has won several Best of Westchester awards as well as earning a reputation for her eclectic style based on her heritage and her love for natural ingredients.
Popular items at the Saw Mill Club Café include a variety of healthy muffins, which she bakes on the premises each day. They include blueberry and banana chocolate chip, among other delicious flavors. Her protein and energy bars are also big sellers.
"I've been making them from the very beginning," added the hard-working mother of two grown children. "I've just improved the recipe as I've gone along."
Feiner's energy bars include prunes and rice flour, among other ingredients. Her protein bars contain a mix of soy protein, flax seeds, almonds, honey, dates, eggs, sunflower seeds and whey.
Some of her delicious weekly specials are the popular breakfast burrito, spinach and poached eggs, chopped baked salmon with kale and quinoa, cold sesame soba noodle with chicken and a Santa Fe hot wrap with salsa, cheddar and sesame sauce.
Every Tuesday and Wednesday customers can order a full meal for $31 through a new service called the Chicken Club. The meal for four includes an organic chicken with either black or brown rice, roasted or baked potato and sautéed seasonal vegetables.
The meal must be ordered during the day and picked up after 4 p.m., Feiner said. The wholesome dinner to go is geared toward busy families who don't always have the time to cook quality food at home, she said.
Despite her grueling seven-day-a-week schedule that starts in early morning and lasts until 8 p.m. on weeknights, Feiner is a fountain of ideas. She is planning on holding regular cooking demonstrations and is eager to ramp up her catering business as the holidays draw close. Feiner said she will be working with the club's event planner and hopes to coordinate with the club on future parties and special events.
"This is a really good fit for me," Feiner said.
The Saw Mill Club Café by Myong Gourmet is open Monday through Friday from 8 a.m. to 8 p.m. and on weekends from 8 a.m. to 5 p.m. Saw Mill Club is located at 77 Kenisco Drive in Mount Kisco. Call 914-241-0797 to order a meal from the Chicken Club or to learn more about Feiner's catering service.
Colette Connolly is a copywriter and p.r. expert. She owns Connolly Communications, which is based in Bronxville, New York. Colette specializes in providing content-rich, SEO-optimized press releases, articles, newsletters, brochures, and customer success stories.