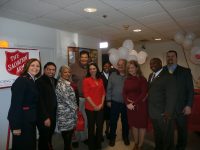 One of the most renowned international charities is returning to Putnam County.
A chapter of the Salvation Army (SA) is back in Putnam after a decade-long absence as local officials and SA members gathered last Tuesday to make the announcement. A charity meant to feed, clothe, and house the needy reinstituted a local advisory board with several board members and local officials on hand to raise awareness for the organization.
County Executive MaryEllen Odell said there are many ways the Salvation Army can help residents less fortunate this time of year and commended the advisory board as a collection of "meaningful, strong, supportive" volunteers. County Clerk Michael Bartolotti also commended the advisory board and the charity for once again having a presence in Putnam.
Lt. Colonel Carole Voisey of the Salvation Army said while the red bucket is a trademark of the holiday season, the non-profit helps the needy year round. She stressed the Salvation Army and the red buckets have become entwined with America.
"It's become a fabric of our culture," Voisey said.
Advisory members on hand were excited about the work the Salvation Army can do locally.
Mahopac resident Greg Amato, who is the chairman of the board, said with an advisory board now in place, a much better system has been fostered to help the needy and youth locally.
Amato said when he retired as Carmel police chief in 1998, he joined the Salvation Army board shortly after. But when the Salvation Army reshuffled local boards, Putnam's became defunct and stopped operating in the county.
About five years ago, the groundwork was started to bring a board back to the county, Amato said.
Amato stressed the Salvation Army wants to provide support for other local non-profits, rather than compete against them.
"All the organizations of Putnam that I know of all work together, no one is looking to outdo the other," Amato said.
Putnam Valley resident Anthony Williams said he's been on both the receiving and now giving parts of the Salvation Army. As a single father for ten years, when Williams faced multiple layoffs, he tapped into the assistance offered by the Salvation Army, which helped send his children to camp.
"I think it's an excellent organization," Williams said, stressing much of the money goes to help people rather than to an abundance of paid administrators. "In this case they help all over the world."
Another county resident and board member, Mathew Feehan of Feehan Insurance, said he believes in the mission of the Salvation Army. Involved in other local organizations, Feehan said with such a divide in the country, it's important for people to unite over common goals like helping the poor.
"It's a good program," Feehan said. "We need more of this."