Sale Agreement in Place for Pleasantville Office Park
We are part of The Trust Project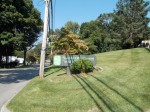 It looks like an empty Pleasantville office park will finally have a new owner.
Toll Brothers, a Horsham, Pa.-based home builder with offices in New York City and Fishkill, has an agreement in place to buy the 18-acre property at 485 Washington Ave. from Benenson Capital Partners LLC of Manhattan.
The village board will host a work session next Monday, Sept. 24 where Toll Brothers representatives are expected to discuss their plans for the property. The land, which had been used as an office park until about two years ago when the last commercial tenants moved out of the 40,000-square-foot building, will likely be targeted for residential development. It is currently zoned for campus use. Terms of the pending sale were not released.
Mayor Peter Scherer said the sale is good news for the village. If the new owner can develop the property it would increase its value and the amount of tax revenue it would generate for the village. Toll Brothers bills itself as "America's luxury home builder" on its website.
"I am excited to hear what they have to say," Scherer said. "I have met with this company, but I don't know what they are going to propose. I am looking now to the 24th."
Trustee Mindy Berard said having a new owner for a property of that size was an important and exciting turn.
"There will be a lot of advantages for village taxpayers," Berard said. "It could mean a lot for the village. The village will be able to collect recreation fees. I am looking forward to working closely with them."
If Toll Brothers were to propose a residential application, it would require the property to be rezoned to residential. Representatives of Benenson Capital and village officials have maintained it is not feasible to keep the property as an office park because of the regional trend of high vacancies in office buildings.
Any plan would also likely have to include mitigation for the stormwater runoff that comes from the property. Benenson has come under fire for failing to control stormwater, which has led to flooding for homeowners across the street during significant rains. Uncontrolled runoff has also resulted in litter washing up on the neighbors' properties.
The village has issued Benenson numerous violations, including one shortly before Hurricane Irene last year for failure to prevent stormwater runoff.