Safe Gun Storage Law Passed in Philipstown
We are part of The Trust Project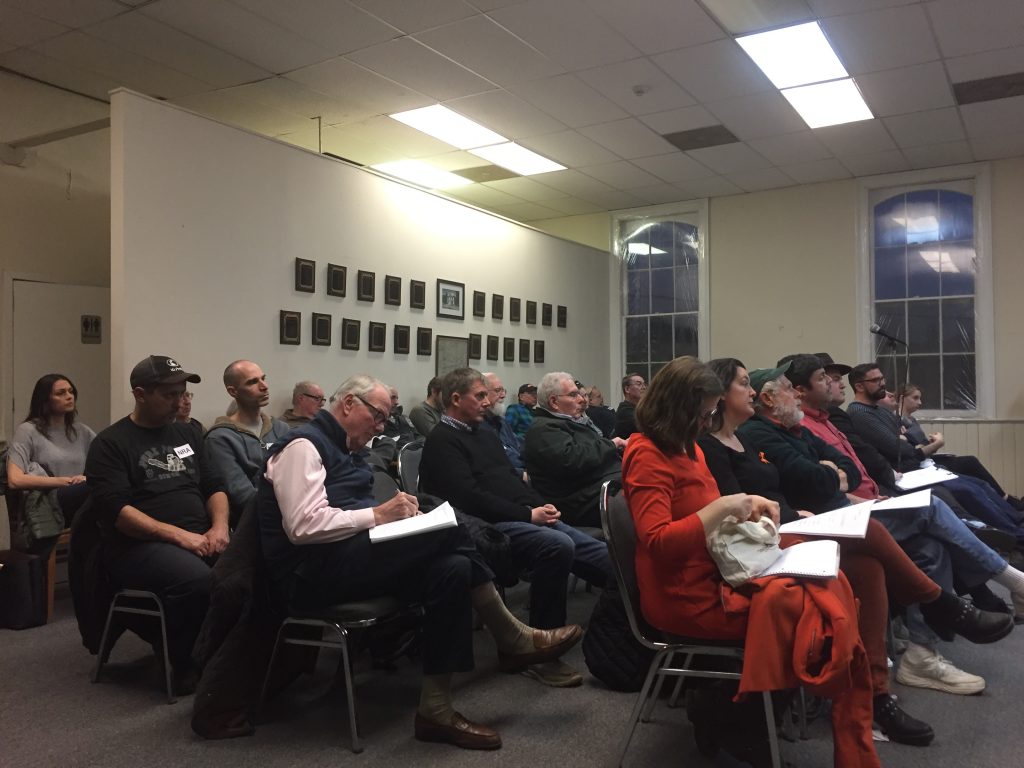 After more than a year of heated public debate that captured the attention of the entire region, the Philipstown town board signed off on a new law requiring gun owners to safely store their weapons.
In a 5-0 vote, the town board, which consists of five Democrats, approved a gun control measure last Thursday that led to a small group of residents rising in applause and some boos from opponents wearing NRA stickers for the National Rifle Association. The law states no gun owner can leave a firearm out of his or her possession in a residence if they know that a minor is home. The gun must be locked up in those cases by using a locked container or trigger lock.
Punishment for a violation of the misdemeanor could be a fine up to $1,000 and/or up to a year in jail.
The vote comes after a marathon public hearing on Feb. 21 that brought out more than 200 people. Most of the comments at the meeting were in support of the law, but there were some passionate dissenters to the proposal.
Supervisor Richard Shea said other municipalities have passed stricter gun laws around the state and he was confident the town would fair well against any legal challenge.
"We're on firm legal ground with this," Shea said.
Councilman Robert Flaherty said he was originally against the proposed law, but changed his mind after the Feb. 21 public hearing and speaking with many residents. He called the legislation "common sense."
Councilman Michael Leonard said he read about 400 comments from people that offered input about the proposed law. Leonard believes this law has no detriment to defending someone's home. He said he wishes Putnam County lawmakers and New York State lawmakers would take a look at its safe storage laws and mirror Philipstown's.
Flaherty and Leonard both stated that if the town tries to strengthen the law in the future, they would not be in support of it.
Councilman John Van Tassel said the issue of gun control has resulted in hysteria on both sides of the debate nationwide, but felt this local legislation found middle ground. He said the months of discussion over the safe storage legislation helped educate the community about the safe storage of firearms. He even pointed out he changed the way he stored his firearm.
"I think it's logical," Van Tassel said. "It doesn't take away anybody's rights."
Councilwoman Nancy Montgomery said this law has been requested by most of the community. She mentioned that the Putnam/Dutchess Sportsmen Rifle Association sent a message to the board and claimed it was a "burden" for gun owners to buy a gun lock. After she mentioned that, she carried a bunch of trigger locks in a basket to the front of the dais that she bought at Wal-Mart earlier that day.
"I would like to see a stronger law," Montgomery said.
She added she plans on going to the county to make a pitch to the legislature in hopes of convincing those lawmakers to adopt a safe storage law. (All nine members of the legislature are Republicans.)
Opponents of the law were disappointed with the passage of it, even though they generally support the idea of safely storing firearms.
Charles Harris, of Garrison, called the ordinance "totally unnecessary" and said the board was aiming to infringe on 2nd Amendment rights. He did note any gun owner that doesn't keep their guns safe from children is an "idiot" that should not have a firearm.
Peter, a Putnam resident who didn't want to give his last name, claimed the town board was trying to facilitate their personal agendas through gun control laws. A resolution would have been better to pass rather than enacting a criminal offense, Peter said.
"The law is ambiguously written," Peter said.
Patterson resident Chris Turan said the final draft that was approved is an improvement from the first draft proposed more than a year ago, but would still like to see the matter treated civilly rather than criminally.
District Attorney Robert Tendy was originally against an earlier draft of the safe storage law and spoke out at a meeting about his concerns. While Tendy hasn't kept up to date on the most recent draft, he recently reviewed the approved legislation and said he thought the law strikes a "thoughtful compromise."
"In this final version of the law, the town board has taken into account the constitutional right of the people to defend themselves, and I'm very happy about that," Tendy said. "Prior versions were extremely troubling."
Supervisor Shea said he doesn't anticipate there will be many cases in which Philipstown residents would face legal trouble connected to the ordinance. When asked if the Philipstown board could potentially go further in having a stronger safe storage ordinance, Shea said he would like to see it buffed up in the future.
He said the law that was passed Thursday is "the absolutely minimum we could do." After having a dialogue with the entire community and within the board, Shea believes this was a good first draft.
"But it's certainly not the end," Shea said.