Safe Cloud Studios, Peekskill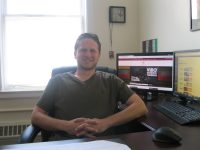 Mike Ford, owner of Safe Cloud Studios in Peekskill, did not struggle to find himself in terms of what he wanted to for a living.
"I've been doing this all my life," he said last week. "I made my first website when I was 10 years old. I programmed my first software when I was 12 years old."
Ford said until a few years ago he pursued his passion only on a freelance basis. About three-and-a-half years ago he incorporated Safe Cloud Inc. and he recently opened his office in Peekskill.
Ford, who grew up in Peekskill, has about 20 clients who reside in the city. "This is kind of a central location," Ford said. "It's a nice comfortable spot."
His father, John, owns and operates Ford Piano, which is located next door to Safe Cloud. Ford said he formerly worked for his father.
Though he has several clients from Peekskill, Ford said he also has clients from around the country and in Europe.
"My primary focus is Web design, graphic design, logo design, advertising, marketing and social media," Ford said. "I'm kind of a one-stop shop. We do domain registration and website hosting. A lot of my clients aren't exactly tech savvy so they just want everything done easily. I'm able to do it easily."
Ford's company also produces traditional forms of media including mailers. He said he has learned from a major mistake made by other similar businesses. One of the main complaints expressed by his clients is that other businesses were not responsive to their concerns.
"I always tell all my clients I'm available 24-7," he said. "I have my cell phone on me at all times. You can call me, text me or e-mail me."
Ford currently lives in Monroe but said he has plans to move his family back to the city in the near future.
He said owning and operating Safe Cloud is both his "vocation and avocation."
"I really love seeing before and after products," he said. "I love to help people's businesses expand and improve. It gets me really happy when I am able to produce a website or a logo or advertising material that a client loves."
"It's very gratifying to me to know that I'm helping other people's businesses while growing my own business," Ford said.
Safe Cloud Studios is located at 1006 Brown St. Suite 212 in Peekskill. For more information, call 914- 297-8517or visit https://safecloudstudios.com.