Rye's Dynamic Duo Dashes Yorktown's Title Dreams; Garnet QB-WR Hook up for 3 TDs in 35-14 Defeat of Huskers
We are part of The Trust Project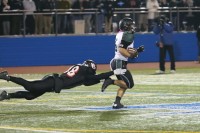 By Ray Gallagher
Examiner Sports Editor
MAHOPAC — Last Saturday night, Livingston to DeGraw was to Section 1 football what Manning to Thomas is to the NFL, a spellbinding form of chemistry. Rye QB Andrew Livingston and WR Tim DeGraw were synched up in record-setting fashion on the campus of Mahopac High, Livingston connecting on 8-of-11 passes for 257 yards and three TD passes to DeGraw in the No.1B Garnets' 35-14 title triumph of No.1A Yorktown High.
Preparing for this aerial onslaught is something Yorktown could not simulate in practice, something akin to a Section 1 boys' basketball team preparing for Mount Vernon, or a girls' basketball team prepping for Ossining: It's not possible unless a team possesses that type of big-play capability of its own.
State-ranked (No.9) Rye will need more of the same this coming Saturday (noon kickoff) at Mahopac when it faces Section 9 champion Cornwall in the NYSPHSAA quarterfinals. State-ranked (No.2) Cornwall has become a football academy of late, winning four-straight Section 9 titles and nine of the last 11 while setting all sorts of offensive records and eliminating Somers in each of the past two seasons.
Yorktown's devastating rushing attack, which featured junior RB Nick Santavicca, senior QB Ryan Baker and senior FB Tim Forbes, was somewhat effective but incapable of keeping up with the quick-strike connectivity of Livingston and DeGraw.
Santavicca, who plays with the heart of a lion, finished with 26 carries for 200 yards and hauled in three grabs for 45 yards, putting the finishing touches on a record-setting season.
"It's tough going out like this," said Santavicca, who shattered the school record for rushing yards in a season (1,706). "Livingston's got some arm. He really does. You can't really defend that."
Livingston admitted Yorktown posed an admirable foe, but after losing to Somers in last year's Class A championship, the Garnets would not be denied their first Class A championship, 11th overall.
"Losing in last year's championship was all the motivation we needed to come in and do our jobs this year," Livingston said after winning Rye's first title since 2008.
State-ranked (No.8) Yorktown (9-1) seemed to be cast as the star in an episode of Breaking Bad, because just about everything did break bad for Coach Mike Rescigno's Huskers, including the opening kickoff, which, when launched as a designed squib kick, careened off a Yorktown player and into the hands of a Garnet, giving Livinsgton the first of several short fields to work with.
"It's about as tough a break as you can get the moment the game starts," Husker Coach Mike Rescigno told reporters.
It would be a portent of things to come for the Huskers, but take nothing away from Rye: They were the better team on this night. Livingston's performance was one for the ages, perhaps the best in a Section1 championship.
Rye would build a 21-0 halftime lead, which ballooned to 28 points when Livingston came out gunning to open the second half, finding, you guessed it, DeGraw, for 54 yards and his second TD. The Huskers, stunned and battered, fought valiantly for four quarters, cutting the deficit to 28-6 after a five-yard TD rush from FB Tim Forbes. Husker QB Ryan Baker (12-of-27, 150 yards) later hit Forbes for a 24-yard scoring strike, making for the final margin. Husker receiver Dan Del Bene caught three passes for 51 yards, but the Huskers were beaten up front on both sides of the ball, which took most everyone in attendance by surprise.
Yorktown needed to bring its a-game, though, on a night when Livingston would set a Section 1 passing record for career yards (5,565) and become the first QB in Section 1 to throw for over 2,000 yards twice. Unfortunately, the Huskers did not.
JPEG captions: RAY GALLAGHER PHOTOS
Rye QB Andrew Livingston is temporarily halted by a slew of gang-tackling Huskers in Garnets' 35-14 championship win over Huskers.
Rye's Andrew Livingston is temporarily halted at the 1 by a host of gang-tackling Huskers.
Yorktown RB Nick Santavicca chugs for yards as TE Dan Bel Bene sets up a crushing block.
Yorktown FB Tim Forbes finds a crease in the Rye defense, setting up one of two TDs he would score.
Husker QB Ryan Baker breaks off a gain in Section 1 title loss to Rye.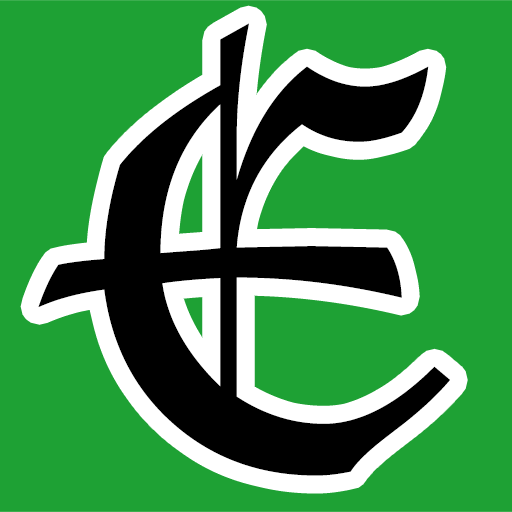 Examiner Media – Keeping you informed with professionally-reported local news, features, and sports coverage.