Rye Playland's Fate Unsustainable for Now
We are part of The Trust Project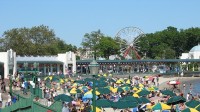 By Jon Craig – If you've ever sat dangling at the top of a stalled double Ferris wheel, that's where plans for a revived, profitable Playland Park are resting at the moment; precariously in indefinite limbo.
Last week's rhetoric from public officials and those hoping to eventually make a buck off of a shorefront mix of fall, winter, spring and summer facilities did not clarify anything. They sounded more like the amusement game pitchmen than problem-solvers.
"Some legislators are hopping mad," said county Board of Legislators Chairman Mike Kaplowitz. "They should be sending (us) flowers and candy."
Kaplowitz was referring to the once-favored redevelopment frontrunner, Sustainable Playland Inc. or SPI, which signed agreements July 2013 to take over management of the losing operation from the county pending approval by the county Board of Legislators. But, at least from SPI's point of view, the Board is coming up with more questions than solutions.
SPI's most recent correspondence expressed frustration about the county review process, and left legislators flabbergasted during the holidays. As individual legislators toss out new questions, or seek new revenue and parking estimates based on larger turnouts or longer seasons, it looks more and more like any approach to operating the historic park will remain a losing proposition.
SPI spokesman Geoff Thompson said developers envisioned a year-round plan that adds a sports field house, using realistic attendance figures, not pie-in-the-sky projected growth, which is neither realistic nor profitable.
"Whose vision are we talking about?" Thompson asked. "Every time you (restudy) this, the cash register rings again with all new numbers. . . With every passing week, it gets more difficult. The years are slipping by. Every member of the legislature is coming up with their own vision. It becomes difficult to raise money when you have lawsuits hanging over the thing. Every meeting, it's more questions."
Kaplowitz disagreed with Thompson's assessment. He insists county legislators have always expected to hear low-, mid- and best-case scenarios from SPI about attendance, revenue and parking.
"Frankly, this letter of theirs (SPI) has created a lot of confusion," said Ned McCormack, spokesman for County Executive Rob Astorino. "It's such a great iconic attraction. The status quo is not an option. We don't think litigation, whether it's with Rye or anyone else, is the answer."
"We're talking to Sustainable Playland and the Board," McCormack said. "We're committed to moving the process forward." The county executive's office is in the role of "talking to everybody," he said.
So when Playland opens on May 10, it's more of the status quo. The county still owns Playland. It is destined to lose at least $5 million-a-year. Visitors will flock there from well beyond Rye. But attendance has been falling for the past 30 years and the facility needs at least $30 million in infrastructure repairs.
Meanwhile, Rye being Rye, its leaders are attempting an 11th hour power grab for more control over decisions about the fate of county-owned property.
Friends of Edith G. Read Wildlife Sanctuary wrote SPI President Kim Morque last week saying they could not support use of the shore zone between the Sound and Manursing Lake for overflow parking every weekend in July and August.