Running for PEACE OUTside Campus
We are part of The Trust Project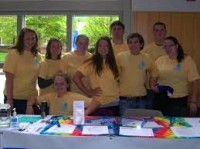 PEACE OUTside Campus, The Lindsey M. Bonistall Foundation, a not-for-profit organization dedicated to promoting safe living environments college communities, has announced its 9th Annual 5K Lindsey Run/Walk to be held at Purchase College/SUNY in Purchase. The event will take place on Sunday, October 27th at 8:15 a.m.  For advanced registration visit www.LindseyRun.com. Printed applications can be found at the website, in local running stores, health clubs, schools and colleges throughout Westchester. For additional information or Sponsorship Opportunities call PEACE OUTside Campus office at 914-428-4411. Race day registrations will take place at Purchase College/ SUNY beginning at 8:15 a.m. The pre-registration cost is $35 for adults, $25 for Students (12-21 yrs.), $15 for children (5-11 yrs.) and $20 for Sport Teams (10+ members) through October 7th. The registration cost after October 7 is $40 for adults $30 for Student (12-21 yrs.) and $20 for children (5-11 yrs.) and $25 for Sport Teams (10+ members). The track is USATF certified, fast and mostly flat with one moderate hill in the first mile. Throughout the track there will be aid stations serving water. Awards and prizes will be given to the first three overall male and female finishers and in each age division. There is also a youth award for male and female runners ages 11 and under.   Register before October 7th and you will be guaranteed to receive a race tee shirt.
In addition to the race, participants will enjoy:
A heart pumping, blood flowing pre-race warm-up led by certified personal trainers
A post-race feast including egg entrees, meats, salads, and a selection of baked goods
Complimentary post-race massage and passive stretching donated by Finger Lakes School of Massage, Mt. Kisco.
Valuable raffle prizes including jewelry, autographed sports memorabilia, gift certificates to some of the best eats in Westchester and much more; all donated by local sponsors (6 tickets for $25 or $5 each)
Awesome music and DJ, to keep your feet moving even when you're not on the track.

Runners will be cheered on by the cheerleading squads from Good Council Academy in White Plains and Harrison High School.

Electronic timing for all race participants
PEACE OUTside Campus, The Lindsey M. Bonistall Foundation is dedicated to promoting peaceful and safe living environments in college communities. Their goal is to empower students and their families to be proactive in safeguarding themselves against crime. The seeds of PEACE OUTside Campus, The Lindsey M. Bonistall Foundation were planted in the violent attack and murder of its namesake in 2005.  Lindsey's family and friends vowed to take whatever steps necessary to prevent a similar tragedy from happening to other families and began the foundation in her honor. Since its inception in July 2005, PEACE OUTside Campus has advocated for student safety and shared its message of positive empowerment with countless young people, parents and educators through our programs: Teens 'N Transition and Identify The Risk. Our online programs, Living Off-Campus 101, Off-Campus Housing Guidelines, and our website are important resources that support the message of personal safety. Our success in reducing the risk of violent crime is measured by the attacks that never occur, headlines that never appear, and the families who have no cause to grieve.
To learn more about PEACE OUTside Campus, visit www.peaceoutsidecampus.org or call 914-428-4411. The office is located at 52 North Broadway in White Plains, NY 10603. The mailing address is P.O. Box 15 Valhalla, NY 10595.
PEACE OUTside Campus, the Lindsey M. Bonistall Foundation is a 501 (c) (3) charitable organization. Contributions are tax deductible under section 170 of the code.