Ross Picked as Superintendent of Greenburgh Central 7 School District
We are part of The Trust Project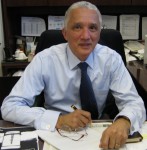 Woodlands Principal Ronald Ross, who's been serving as the Greenburgh Central School District 7 interim superintendent, has been chosen to lead the district moving forward.
Ross, who's been the principal of Woodlands High School since 2009, was one of three finalists for the position. He and the other two finalists, Anthony Cavanna, superintendent of the West Orange School District in New Jersey and Robert Copeland, superintendent of the Piscataway School District in New Jersey, met with community members the week of April 22. The board decided to stick with Ross and remove the interim tag from his title.
"Ron has the vision and the commitment to the children that are essential for the leadership of our schools," School Board President Terry Williams said. "He has done an excellent job leading the high school and as interim superintendent. We are confident that he will be a strong superintendent and continue to lead us to attain excellence in education."
Ross led the Mount Vernon City School District from 1998 to 2002. After that, he led the Roosevelt School District from 2004 to 2007. He's also been deputy superintendent of Hempstead Public Schools, where he was principal of Hempstead High School.
The board hired Hazard, Young, Attea (HYA) and Associates, an executive search firm, to help with the search.
Ross's appointment is effective upon the completion of a background check and contract negotiations.
Ross has had mixed success in his previous two superintendent positions. Mount Vernon schools saw a dramatic spike in test scores under his leadership during a time considered a turnaround for the what had been a struggling district. When he went to Roosevelt, the district was already under state oversight and ended up resigning before his contract was up, as the school ran large budget deficits.
Ross, previously a teacher and principal in New York City, has more than 30 years of experience in education.