Rosemary's Basil, Brewster
We are part of The Trust Project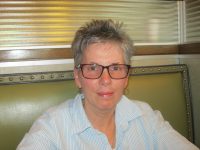 Would you like a prepared meal that is nutritious and requires only to be heated for a few minutes?
Brewster resident Ann Schurhammer can help you out.
Schurhammer is chef and owner of Rosemary's Basil, which is slated to open later this month in Brewster. She is opening a home delivery food company.
"I'll be making fresh meals daily and then delivering them to clients," she said last week. "You can order it daily, weekly, monthly, once a week, once a month, once a year. There's no program that you have to join or belong to."
The delivered meals just need to be warmed up, she said and there is a wide selection of dishes to choose from
"I'll offer a meat dish, a fish dish and a vegetarian dish," she said, adding she will just offer entrees and sides.
Schurhammer said her culinary specialties include Asian dishes, seafood, vegetarian meals, light dishes, and gluten-free and dairy-free foods.
Schurhammer, who has been a personal chef since 2005, will continue to do catering after her business opens.
Working in the food industry was not her original career plan, Schurhammer recalled. She actually wanted to work with animals.
"I wanted to be a vet," she said. "That didn't work out for me."
Subsequently while in college Schurhammer attended a career day and stopped at the Culinary Institute of America table and that prompted her interest in attending the school. Even though she had no food industry experience, except for flipping burgers at McDonald's, she was accepted by the CIA in Hyde Park. She graduated from the school in October of 1983 and said "it was great for me."
Schurhammer said she initially is seeking a client base from Putnam County and hopes to expand, "depending on how the business takes off."
Schurhammer will cook her food at the Brewster Elks lodge kitchen through a rental agreement.
The new business will be in operation on weekdays, Schurhammer noted.
Schurhammer explained how she came up with the name for her business. "My grandmother's name was Rose" and "Rosemary's Baby" is a classic horror film and basil and rosemary are spices, she said.
"I do love what I do," Schurhammer said. "I just get pleasure seeing the people when they compliment me and they have a nice meal."
For more information about Rosemary's Basil call 914-906-9861or send an e-mail to aschurhammer@me.com.