Romer Avenue Parking Restriction Compromise Approved
We are part of The Trust Project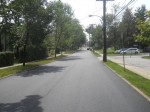 The Pleasantville Village Board approved new parking regulations for Romer Avenue last week in the hopes of making the street safer for drivers and pedestrians.
The board unanimously agreed to prohibit parking on school days for about three parking spaces from 7 to 9 a.m. and 2 to 4 p.m. starting at the curb cut to the Mount Pleasant Public Library and heading toward Pleasantville High School. The goal is to improve sight lines for drivers pulling out of the library's parking lot. Parking is already restricted in front of the library on Bedford Road and Romer Avenue.
At the other end of the block, the spaces closest to the high school will have two-hour restricted parking only when school is in session. A speed hump has also been installed on Romer Avenue to slow traffic and enhance safety on the street.
"Kudos to the neighbors for encouraging improvements," Mayor Peter Scherer said.
The Aug. 27 public hearing was supposed to remain open until next week, but board members concluded that its action satisfied neighbors. Four Romer Avenue residents, including village Trustee Brian Skarstad, said the changes were satisfactory.
"I feel good about it," Scherer said. "It's the kind of discussion you hope to have. It was a freewheeling exchange of ideas, and what we ended up with is a reasonable and appropriate accommodation."
The resolution was approved in time for the reopening of school this Thursday. The village also plans to have greater police presence on Romer Avenue to prevent motorists from speeding.
"Hopefully the library lot will flow a little better and we can avoid the problem of kids darting in and out of cars," Scherer said.
Trustee Colleen Griffin Wagner was one of the biggest advocates for the changes.
"Having those spaces there at dismissal time made it impossible to safely turn right or left (out of the library's lot)," Wagner said. "You couldn't see. Folks were edging out and blocking the sidewalks that kids use."
But Wagner cautioned that for Romer Avenue to be safe, drivers must cooperate.
"Drive safely and stay off your phones," Wagner warned. "We have to slow down and be super careful. The library is not a pickup spot and should not be designated as such. There is lots of parking on other streets in Pleasantville around the school. If we all cooperate, we can make it a much safer time for kids. That was our goal."
Skarstad, who was initially opposed to stricter parking regulations, said the changes were a good solution.
"We improved the sight lines at the library driveway," Skarstad said. "I thought the original legislation was a terrible idea that would've caused (excessive) speeding."
Skarstad, who has lived on the street since 1989, said speeding is a problem every September.
"You have the new crop of parents that have never driven on Romer and students with a first-time driver's license who see if they can hit 50 (miles per hour)," Skarstad said. "That's not hyperbole. We have to get cops with radar guns to slow people down."
Library Executive Director John Fearon also agreed with the revisions.
"It will help visibility at the entranceway," Fearon said. "The village board is doing the right thing and I commend them for it."
The library has tried different measures to improve safety, including restricting access to the parking lot. After school is dismissed it is often swarmed with children and parents, which can lead to unsafe conditions.
"If you want to come to the library, please come," Fearon said. "We do not have the capacity for all of the parents who want to pick their kids up. If you're not planning on using the library, then please think of a different way of picking up your children."