We are part of The Trust Project
There are many tools available to help a struggling student succeed. There's individual or group tutoring, afterschool classes and online learning.
Seeking help from another student is generally not on the list when parents are looking for their children to excel academically.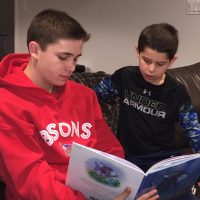 However, Role Model Mentors employs talented and motivated high school students to help children in grades K-8 and match them with children who have similar interests. The older students offer their younger counterparts not only academic help but the kind of guidance and camaraderie that most adult tutors can't provide.
The idea was the brainchild of Tim Boylan and Derek Correia, who co-founded Role Model Mentors in 2015. The goal was to support the personal growth and self-confidence of younger students. Boylan realized that the tutoring market for elementary and middle school students was underserved and a tutoring service could better prepare that age group for the more competitive high school years.
At the time, Boylan realized his daughter, like many adolescents, needed help with classwork and social issues. He asked an older teen in the neighborhood to act as a role model and provide tutoring.
Once the two students worked together, Correia, a former Fortune 500 executive and Bedford resident, said "magic started happening." He said he joined the business because it could transform lives. Unlike a tutoring service that offers strictly academic help, Correia said parents can choose a mentor to work on academics, music lessons, special class projects and more.
"Everyone is looking for their child to become the best versions of themselves," Correia said.
Whether students are struggling academically or socially, a mentor who is closer in age can provide the needed guidance to place the younger student on a path to success, he explained.
Boylan and Correia reasoned that using high school mentors would be more beneficial because many children may tune out adults and may be more receptive to working with someone closer in age who they look up to.
"But it's not just, here's an older kid," said Correia. "There's a dynamic aspect to these sessions."
There's higher level engagement as additional time is spent with mentors engaging in activities the younger student enjoys, whether it's playing ball or a game of chess.
Role Model Mentors has a robust hiring process, Correia said. Every mentor must have at least a B+ average in an honors or advanced level class or an A average in non-honors classes. They must also be active in a club or legitimate afterschool program or participate on an athletic team.
Correia said all prospective mentors are interviewed and references are obtained from peers and adults. Little advance training is needed.
"These kids self-select for the most part," he said.
The part-time commitment is often a valuable and rewarding work situation with easy-to-manage hours. Mentoring is also a valuable addition for a student's college application, Correia said.
From the mentor's perspective, the experience is highly beneficial.
"Understanding what it means to be responsible for a younger person and being held accountable for another human being's success goes a long way in helping these high school kids…and go on to college understanding empathy," Correia said.
Role Model Mentors has more than 100 clients across Westchester, including from Armonk, Bedford, Briarcliff Manor, Chappaqua, Katonah, Lewisboro, Mount Kisco, Pleasantville and Pound Ridge. About 250 mentors are signed up. Its base plan includes up to five hours of mentoring a month per child. Sessions can vary from an hour or two to an entire morning or afternoon on a weekend. The company recommends 10 to 12 hours per month for students looking for mentoring in sports, music and art in addition to academic support.
For more information about Role Model Mentors, visit www.rolemodelmentors.com. To inquire about mentoring, call 1-800-485-6013 or e-mail info@rolemodelmentors.com.
Colette Connolly is a copywriter and p.r. expert. She owns Connolly Communications, which is based in Bronxville, New York. Colette specializes in providing content-rich, SEO-optimized press releases, articles, newsletters, brochures, and customer success stories.