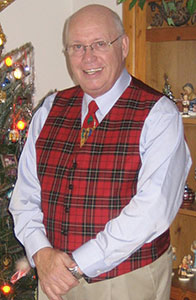 Robert "Bob" Leinweaver, 79, died June 15 with his family by his side in Venice, Fla.
He was born Apr. 15, 1942, in New York City to Edward and Florence Leinweaver.
Robert attended Commerce High School in Manhattan and began his career in banking at 15 years old with First National Bank. He later joined Barclays Bank, where he worked for over 25 years. He ascended to assistant vice president and oversaw branch locations throughout Long Island and the Hudson Valley region of New York.
Robert and his loving wife, Barbara, of 49 years moved to Yorktown Heights in 1976, where they lived for 26 years. After retiring from banking, he proudly established RCL Enterprise, a sporting goods company that combined his passion for the business with his love for baseball.
Bob was actively involved with the Yorktown Athletic Club, where he served in numerous executive roles including president, commissioner and treasurer. His dedication and commitment to the YAC resulted in him being awarded Man of the Year.
Bob and Barbara moved to Venice, Fla. in 2002, where he served as treasurer of the Lakeside Woods Homeowners Association and was also actively volunteering with Meals on Wheels.
Leinweaver is survived by his wife, Barbara; son Matthew and his wife, Gabrielle; son Mark; daughter Diane and her husband, Jeremy Brown; granddaughters Karli, Grace and Madison; grandson Brandon and his wife, Stephanie; and great-grandsons Kyle and Cole.
He is preceded in death by his brother, Edward.
The Leinweaver family is extremely grateful to Tidewell Hospice for their care and comfort of Robert. In lieu of flowers, the family suggests a donation to Tidewell Hospice at www.tidewellhospice.org.
A Celebration of Life will be held on a future date at Venice Memorial Gardens in Venice, Fla.
To sign his online guest book, visit www.farleyfuneralhome.com.