'Rio' Animator Visits Columbus Elementary School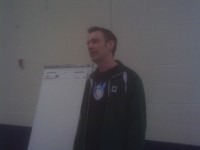 He has helped make many animated characters come alive in such moves in such hit films as "Rio," "Surf's Up" "Monster House" and "The Polar Express," as well as "Ice Age: Continental Drift," which is slated to be released this summer.
And he lives in Mount Pleasant.
Seth Hippen shared his stories about his passion for animation and taught third grade pupils how to create their own characters during an assembly on April 5 at Columbus Elementary School.
The talk was led by third grade teacher Phil Cutrone, who has one of Hippen's daughters, Kendyl, in his class. Cutrone said he noticed the paper lunch bags, featuring drawings created by Hippen for Kendyl. The colorful bags, which were also created for sixth-grader Makenzie, are on display throughout Columbus Elementary School.
Hippen told Cutrone and the students his love for drawing began when he was very young and knew even as a youngster what his career path would be. Hippen recalled that he began drawing one day as a first grader. Pupils in his class were able to go to the drawing station, "If we got all of our work done," he said.
Hippen said even as a small child, he knew he wanted to draw and be involved in animation. "I said that's for me," Hippen said.
After studying at Brigham Young University, Hippen began working professionally on several projects.
Since last year, Hippen has been an animator for Blue Sky Studios.
Hippen has also made animated character move in the live action/animated films "The Green Lantern" and "Alice in Wonderland." 
One of Hippen's most famous animated characters he worked on was Blu, the bird who is afraid to fly in "Rio."
He also created the movements for Linda, Blu's owner in "Rio." Hippen's family has gotten into the act. In a scene in which Linda wants to get off a parade float; Hippen said he based the character's movements based on his daughters, Makenzie, Kendyl and pre-schooler Penelope, as well as his wife, Karolenn. He based the movements of sleeping children on a train in "The Polar Express" on his daughters.
Cutrone noted that when Hippen prepares to do his work on his characters "he works them out." And the evidence of that preparation was shown in a video of Hippen that delighted the amused students. "I will act out the scene myself," he said.
The process of creating an animated feature film requires the efforts of hundreds of animators, Hippen said. Other animators create characters and his job is to make them move, he said.
"First, we meet with the director. It's called a kick off meeting," Hippen said. One of the key topics during those meetings is a discussion of what a character is feeling in a scene, he said.
"I go back to my desk and think a lot," before working on the character's movements, Hippen said.
One of the characters he worked on for the latest "Ice Age" movie is "Captain Gut," based on extinct giant ape, who is the film's major villain. "He's probably my favorite," Hippen said.
Hippen did more than just speak about drawing an animated character, he helped the students create their own. "One of the best things about this is there's not a right way or wrong way of doing it," he said.
Anyone can create their own characters if they go through a series of steps, Hippen said. First you need to pick a shape; Hippen chose a circle. He then went through a series of other steps, choosing to draw a male animal, which became "a grumpy cat," Hippen said. Hippen had a tip for creating an emotion for an animated character. "I think the eyebrows are so important," he said.
The students created their own characters and proudly showed them to Hippen.
Columbus Elementary School Principal Michael Cunzio asked if Hippen had to do repeated drawings to create movement in a character. Hippen said he does not have to do several drawings because he works with his characters on a computer. "It's more like a puppet I'm posing," he said.
His posing has helped make animated characters come alive.