Right Home for Yorktown Dog Park Still Unknown
We are part of The Trust Project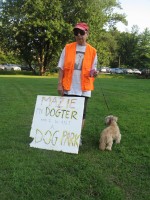 Over the last nine years, 32 different sites have been explored for a proposed Yorktown Dog Park, and it appears that list is about to grow.
Last week, the Yorktown Town Board failed to throw a bone to dog park proponents for a needed wetlands permit for a fence to be installed around a one-acre parcel at Sylvan Glen Nature Preserve in Mohegan Lake. As a result, the project remains in the dog house.
David Rocco, president of the 400-member Yorktown Community Dog Park Association, told the Town Board under the stars at Shrub Oak Park that 22 dog parks have been created in other municipalities since Yorktown first unleashed its plans.
"We should and deserve a place to bring our dogs," Rocco remarked. "We searched far and wide for this dog park for nine years. I personally I don't care where it is now. Sylvan Glen is a magnificent location."
Al Avitabile, vice chairman of the town's Recreation Commission, agreed with Rocco that Sylvan Glen would be an ideal site for the dog park.
"Our plan is simple and straight-forward," Avitabile said. "The commission feels this is a win-win for Yorktown."
However, not everyone shared those sentiments. The Planning Board opposed Sylvan Glen for a dog park a few weeks ago and the Yorktown Land Trust, Advisory Committee on Open Space and Conservation Board also have raised objections.
"We do need a dog park, but it's not Sylvan Glen," said Dale Saltzman, a member of the town's Tree Conservation Advisory Committee who recommended Shallow Creek off Route 6 as a better location. "Sylvan Glen is in a neighborhood where traffic is not needed. It's a passive park."
"I've been to Sylvan Glen and it's the wrong place," said Ron Buehl, a member of the Dog Park Association and Tree Conservation Advisory Commission.