Revised Senior Housing Proposal Draws Praise From Mt. Kisco Planners
We are part of The Trust Project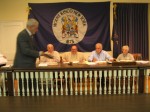 A revised plan for a 129-unit senior housing proposal that causes far less disturbance on an environmentally sensitive hillside received compliments last week from the Mount Kisco Planning Board.
The project, The Hearth at Mount Kisco, is proposed for a 17.7-acre site on Kisco Avenue opposite Holiday Inn Drive. The three-story building would be 177,000 square feet.
Westchester Residence LLC formerly proposed the project. The project returned to the planning board with the new developer, The Hearth at Mount Kisco, LLC, last October.
In a May 20 letter to the planning board, Mark Miller, an attorney representing the applicant, explained the key changes in the project since late last year in order to complete the developer's technical memo to the village. He said the new plans will turn the building to provide "significant benefits," including a sizeable reduction in site disturbance and impervious surface.
It would also preserve more trees, although Miller did not mention how many would be saved. The original plans called for roughly 1,900 trees to be removed from the hillsdie.
The planning board was supportive of the revised plan.
"You guys have done a fantastic job," Planning Board Chairman Joseph Cosentino told the applicant's representatives at the board's May 29 meeting.
The developer is also seeking approval for a revised driveway, Miller stated.
"In this new layout the driveway, after coming off Kisco Avenue, swings to the right and then makes a more gradual sweeping turn to the left to arrive at the building," he said.
Miller stated that there were several advantages to the new driveway layout. He said the view from Kisco Avenue will see the driveway leading into the site, before it
"turns to the right and essentially disappears," Miller wrote in his letter.
"The revised layout will reduce site disturbance by more than one acre and also reduce impervious surface which in turn provide more and better opportunities to address stormwater and any issues raised by the (New York City) DEP," Miller added.
The original plan had a loop road around the entire building, project engineer Charles Utschig told the board.
"We can preserve a great deal of vegetation," Utschig said of the benefit to the revised plan.
The developer has agreed to provide a full submission of the proposal. The proposal is scheduled to be discussed before the planning board again on July 9.