Restoring Biodiversity, One Yard at a Time
News Based on facts, either observed and verified directly by the reporter, or reported and verified from knowledgeable sources.
We are part of The Trust Project
A look at the environmental impact of traditional landscaping techniques and their eco-friendly alternatives in a county renowned for its lawns and green space

Good morning! Today is Monday, May 23, and you are reading today's section of Examiner+, a digital newsmagazine serving Westchester, Putnam, and the surrounding Hudson Valley.
Need to subscribe — or upgrade your Examiner+ subscription to enjoy full access to all of our premium digital content? Take advantage of our special FREE TRIAL OFFER.
Take Examiner+ on a test drive today at NO CHARGE for a full month. Enjoy full membership-level access to all of our premium local content, delivered straight to your inbox six times a week.
---
Please take our brief Reader Survey to help us serve you better (CLICK HERE or see the link at the end of the story)
---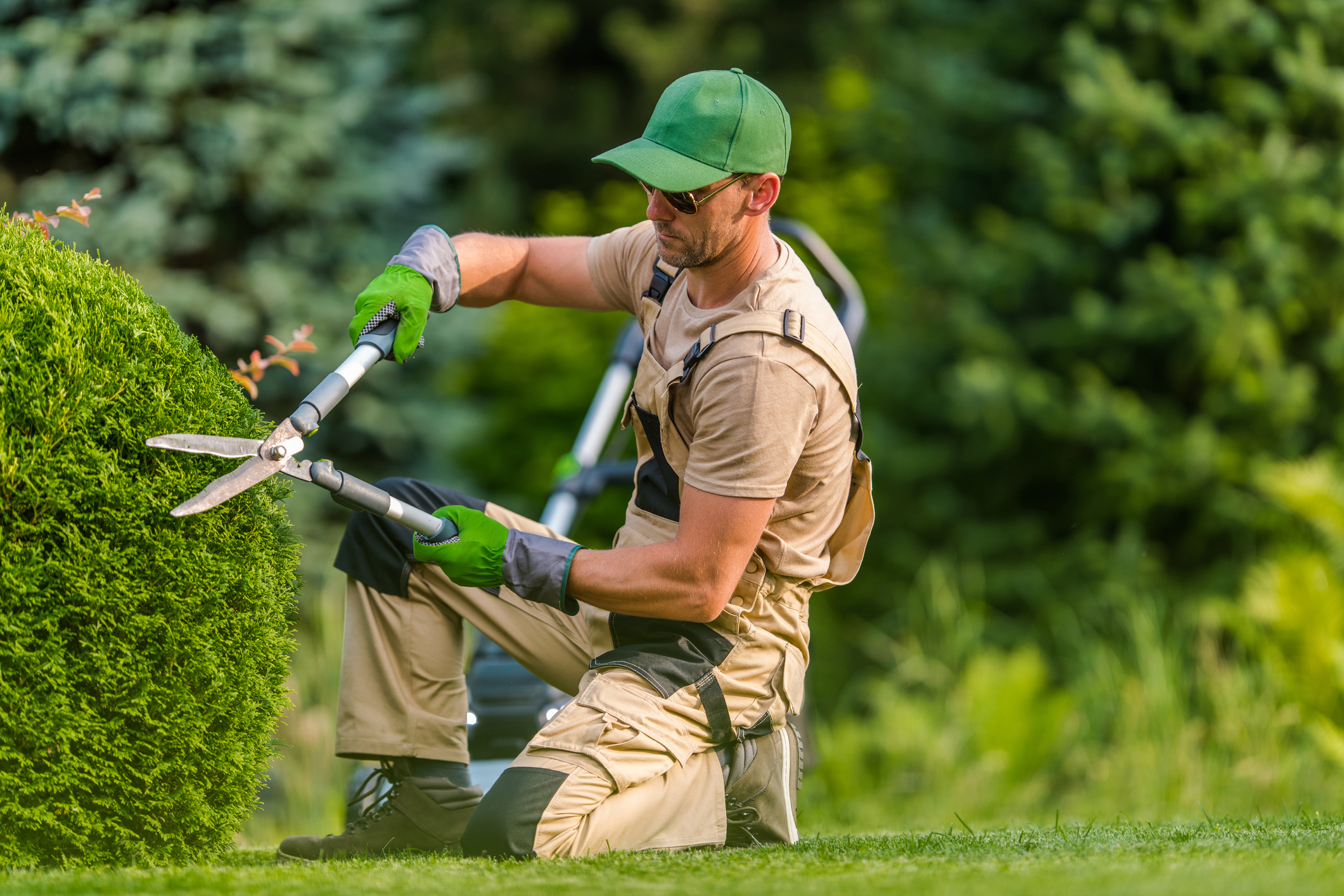 A well-manicured lawn is, in many ways, synonymous with the American suburbs. Frequently mowed and often sprayed with pesticides, these seemingly green landscapes do little to nothing to attract pollinators — the essential insects that bring pollen from one plant to another and, in turn, support food sources for animals and wildlife as well as humans. 
For sustainable landscapers, ecologists, and environmentally-minded homeowners restoring local biodiversity and fighting climate change is essential, and it starts right outside your doorstep. 
"I say it all the time: the most important room in your house is not in your home; it's in your yard," Jay Archer, President and Landscape Ecologist at Rye-based Green Jay Landscaping, says. 
Archer — a leading advocate for ecological landscaping, native plants, and organic land care — works alongside his team to design, construct, and manage landscapes throughout Westchester, Putnam, and Fairfield County that will be not only visually appealing but also ecologically attractive and life-sustaining. 
"We're designing for living to create biological life, our first mandate," Archer explains. "We're also using the natural resources and conserving and preserving as much as we can."
Archer's team designs and builds ecological landscapes without utilizing gas- or oil-powered machinery to create them. 
"We use a lot of primitive technology, frankly, to create landscapes that don't require those resources to be maintained," Archer explains. 
Archer says that while you would think the traditional landscaping industry, narrowly focused on maintaining lawns and green spaces, would want to do good for the environment, that is not the case, primarily due to the overuse of pesticides.
"Pesticides have corrupted, contaminated, disturbed, and distressed our soils, and by compromising the soils, the plants can't possibly be healthy," Archer notes. 
As a result, Archer and his team spend a lot of time analyzing landscape sites before focusing on remediating and regenerating them. 
"We need to heal the actual soil before we can go forward and start constructing a new landscape that will support plant life and, by extension, human life in the healthiest way," Archer explains.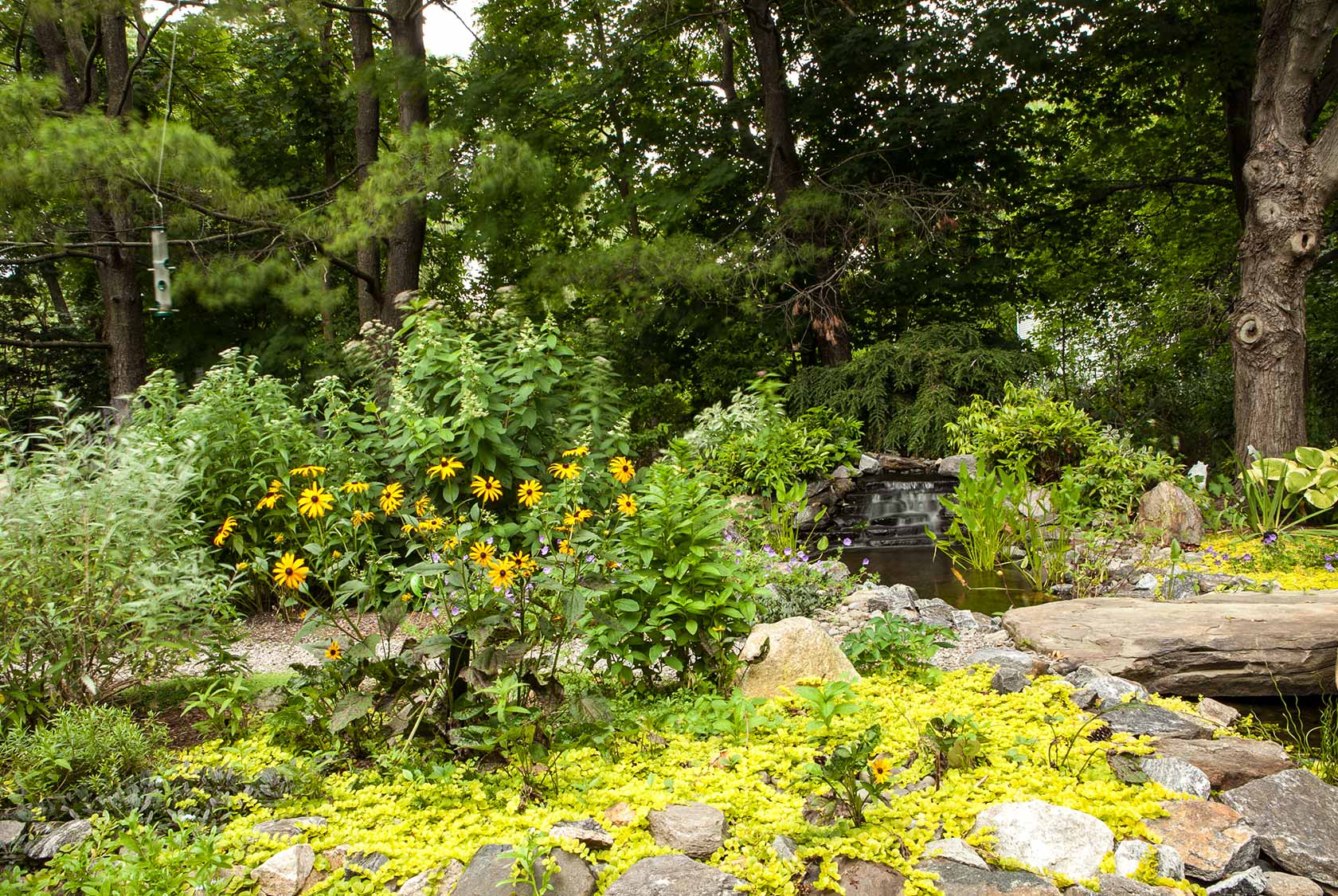 Filippine Hoogland, a landscaper who helped start Healthy Yards — an organization of professional, master, and passionate gardeners based in Bedford — explains that Westchester is one of the counties in New York State with the highest pesticide use.
A 2016 investigation by Lohud found that Westchester was among just six of 62 counties in the state that applied more than one million pounds of pesticides in 2010, the most recent state data available. At the time, Westchester ranked third-highest in pesticide use, at 2.26 million pounds.
The overuse of pesticides county-wide puts the environment and residents' health at risk, particularly for runoff that contaminates water. 
Water with high concentrations of nitrates from synthetic fertilizers and pesticides can cause congenital disabilities, nervous system impairments, and cancer.
"More homeowners are becoming aware and interested, but it's very difficult to find landscapers that can answer to that demand," Hoogland explains. 
Using pollinators as an entry point
At Healthy Yards, Hoogland and her team set out to educate both homeowners and landscapers, sharing resources to help individuals and professionals change their yard practices. 
However, they found that the traditional landscaping industry is very reluctant to change, and homeowners often feel offended when you suggest there are more sustainable ways to tend to their lawns.
That was until Healthy Yards started to embrace Pollinator Pathways, a grassroots movement of volunteers working together to establish pollinator-friendly habitats and food sources for bees, butterflies, hummingbirds, and other pollinating insects and wildlife along a series of continuous corridors.
"It is really the insect as a whole that needs protection because they are the base of our food pyramids," Hoogland explains. "Without those pollinators, the whole ecosystem will crumble."
Because of pesticide use and loss of habitat, pollinator populations are in sharp decline. Bee and monarch butterfly populations, in particular, have declined significantly in recent years.
"We found [Pollinator Pathways] to be a perfect opener for people to have this discussion," Hoogland explains, highlighting that this approach significantly changed the atmosphere of their work. "Interestingly enough, if you start with just the suggestions of flowers [to promote pollinators in your yard], people take the next steps almost automatically."
Hoogland highlights that many homeowners may take additional actions such as stopping the use of pesticides, planting native trees and perennials, removing invasive species, mowing less frequently, or leaving leaves for pollinators over winter. 
No Mow May, a movement started by Oregon-based Xerces Society for Invertebrate Conservation, encourages homeowners not to mow their lawns throughout May. 
Margie Lavender, who founded Hastings Pollinator Pathway alongside Haven Colgate, Hastings-on-Hudson's Village naturalist, says No Mow Way is a simple concept to support biodiversity. 
Because of climate change, many pollinators emerge from hibernation earlier in spring. At this time of year, there is very little blooming to provide native bees with nectar and pollen to eat. 
"A mown lawn provides little to nothing of benefit to a pollinator — it's a pollinator desert," Lavender explains. "By not mowing until the end of May, we allow dandelions, violets, and other early spring 'weeds' to flower, providing much-needed nourishment before the usual abundance of blooms to come in June."
In a study conducted in Appleton, Wisconsin, researchers found that lawns that participated in No Mow May had five times the number of bees and three times the bee species that mown lawns did. At a time when many pollinating insects, birds, and mammals are facing extinction due to habitat loss, fragmentation, climate change, and pesticide use, this intentional practice is quite important.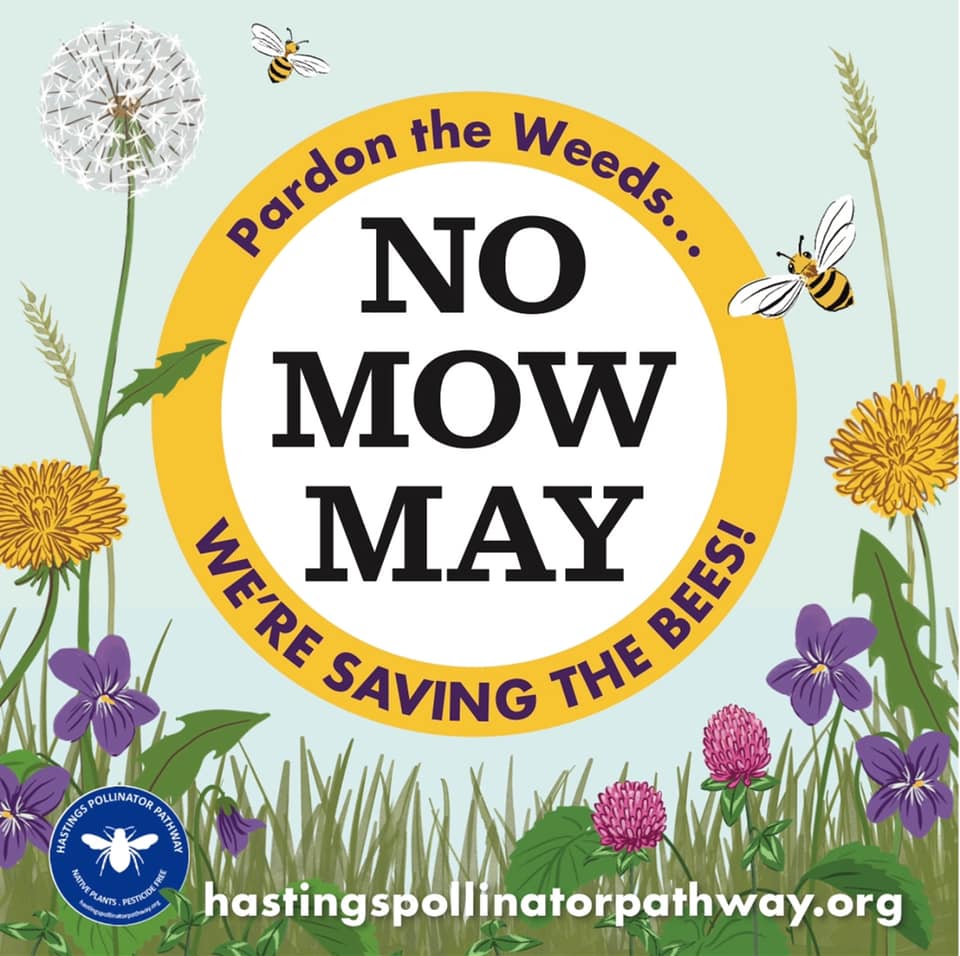 At Hastings Pollinator Pathway, they partnered with Kimi Weart, a graphic designer, to make yard signs so that residents can tell their neighbors that they're participating this spring.
"We plan for these signs to be reused each year and hope the No Mow May movement is catching [on]," Lavender says.
On their Instagram page, Lavender also shares a post each Friday with food that will no longer exist without pollinators — further encouraging residents to participate in the movement. 
Hoogland says No Mow May provides an additional entry point to spark discussion about broader practices and cultural ideals when it comes to landscaping.
"Should [lawns] be pristine and clean, or is it okay to have a little bit more life and grassy fields?" Hoogland says.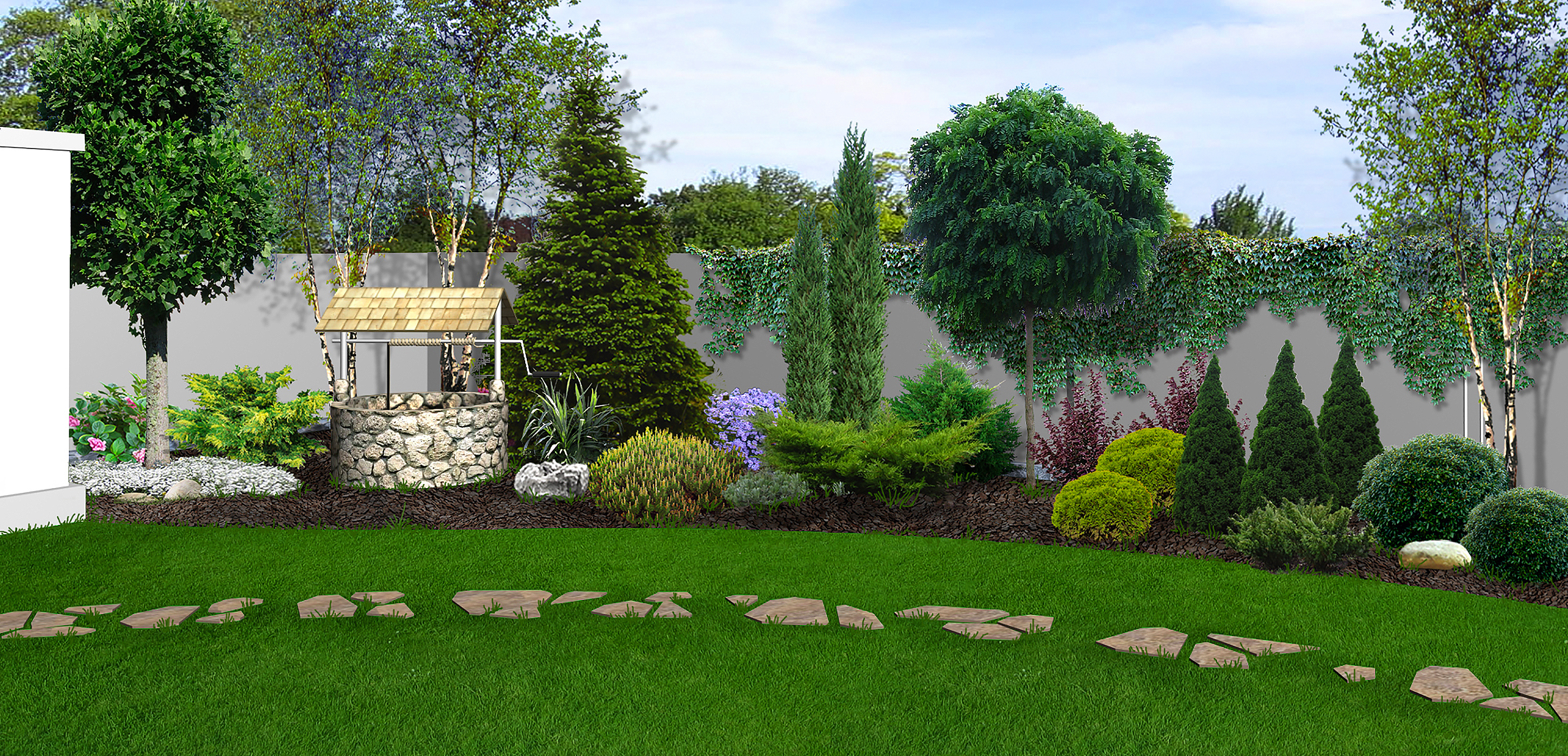 An industry hesitant to change
There's no question that the landscaping industry is a big business in Westchester — whether it's for individual homeowners, golf courses, or municipal properties throughout the county. 
According to Hoogland's estimates, there are over 2,000 landscaping businesses in the county alone. 
Conversations about more sustainable lawn practices, Hoogland says, invite a lot of aggression from members of the traditional landscaping industry — especially as it relates to local proposals to ban gas-powered leaf blowers. Just this month, a contentious public hearing on the topic of a proposed spring-to-early fall ban took place in Pleasantville.
"[Landscapers] feel offended because they have been doing their thing for many years in a way they're proud of, so us educating feels like criticizing them," Hoogland explains, noting that members of Healthy Yards have even received death threats. "There are guys that are so violent and angry."
Although gas-powered leaf blowers and other emissions-emitting landscaping equipment leave landscapers themselves vulnerable to inhaling unhealthy fumes, Hoogland says many are still hesitant to make changes.
As the No Mow May movement grows, landscapers are also finding new ways to recoup income previously generated from mowing during the month. 
"If they mow later, they will find something else to offer," Hoogland says. "Pesticide applications are completely rising at this time because these landscapers need an alternative income."
While Archer agrees that the traditional landscaping industry has many harmful practices, he says homeowners often encourage or engage in bad cultural practices, too such as buying pesticides at hardware stores and applying them indiscriminately to their properties.
"While I'm opposed to traditional landscaping, it's not the poor landscapers' fault that this is what people wanted until yesterday," Archer explains. "There are way more homeowners taking care of their own properties than landscapers, so we have to do outreach both to the industry and to homeowners."
Lavender says that while her landscaper has been patient and open to exploring the best practices for her property, he has said many clients have an expectation of perfection.
"A client will request that he not use a gas leaf blower but will scoff at paying anything extra for the extra labor of raking," Lavender says. "Even I have had to reshape my own ideas of what makes a beautiful garden."
"I heard Kim Eierman say in a lecture once, 'If your garden is not being eaten, it is not a part of the ecosystem,'" Lavender adds. "Once you really dig in and begin to understand the severity of the crisis and how simple changes in your garden can make tangible change, you see everything differently. A pile of leaves may hold butterfly chrysalis to overwinter, a caterpillar nibbling the parsley will become a Swallowtail or lunch for an American Goldfinch, a patch of bare dirt is where ground-nesting bees will emerge in the spring, and violet is bee food." 
Among homeowners, Archer says there's a growing consciousness that we should treat our landscapes as if our lives depend on them because they indeed do. 
"Without bees, we'll have no flowers, and without flowers, we'll have no plants. Without plants, we'll have no food, and then we'll have no us," Archer explains. "This is why Pollinator Pathways has been a hugely successful initiative in terms of raising awareness and making changes."
Archer also works not just to raise awareness but also to give homeowners and members of the landscaping industry the tools to make changes through educational outreach. 
"If you put your resources into the environment with good intentions, you reap benefits from it directly," Archer underscores. 
Changing tides in the trade 
When asked about emerging trends in sustainable landscaping, Hoogland says she sees a lot of women who have studied horticulture or landscape design working to educate landscapers working on properties, as well as younger people starting to get involved in the industry who offer a type of landscaping business rooted in building biodiversity instead of traditional lawn maintenance. 
Amanda Bayley, CEO, and Co-Founder at Croton-on-Hudson-based Plan it Wild, operates one sustainable landscape company that provides an alternative, Earth-centered approach for clients throughout Westchester.
With a background as a landscape architect focused on nature-driven design and habitat restoration, Bayley saw the suburban yard space as a critical, untapped niche.
"The fossil fuel-driven maintenance and aesthetic of a lawn being a green flowerless carpet is what the landscaping industry has you believe your yard should look like," Bayley says. "We're saying native plants and a more wild but still intentionally-looking yard does so much more than a mowed green carpet. That's why Plan it Wild exists."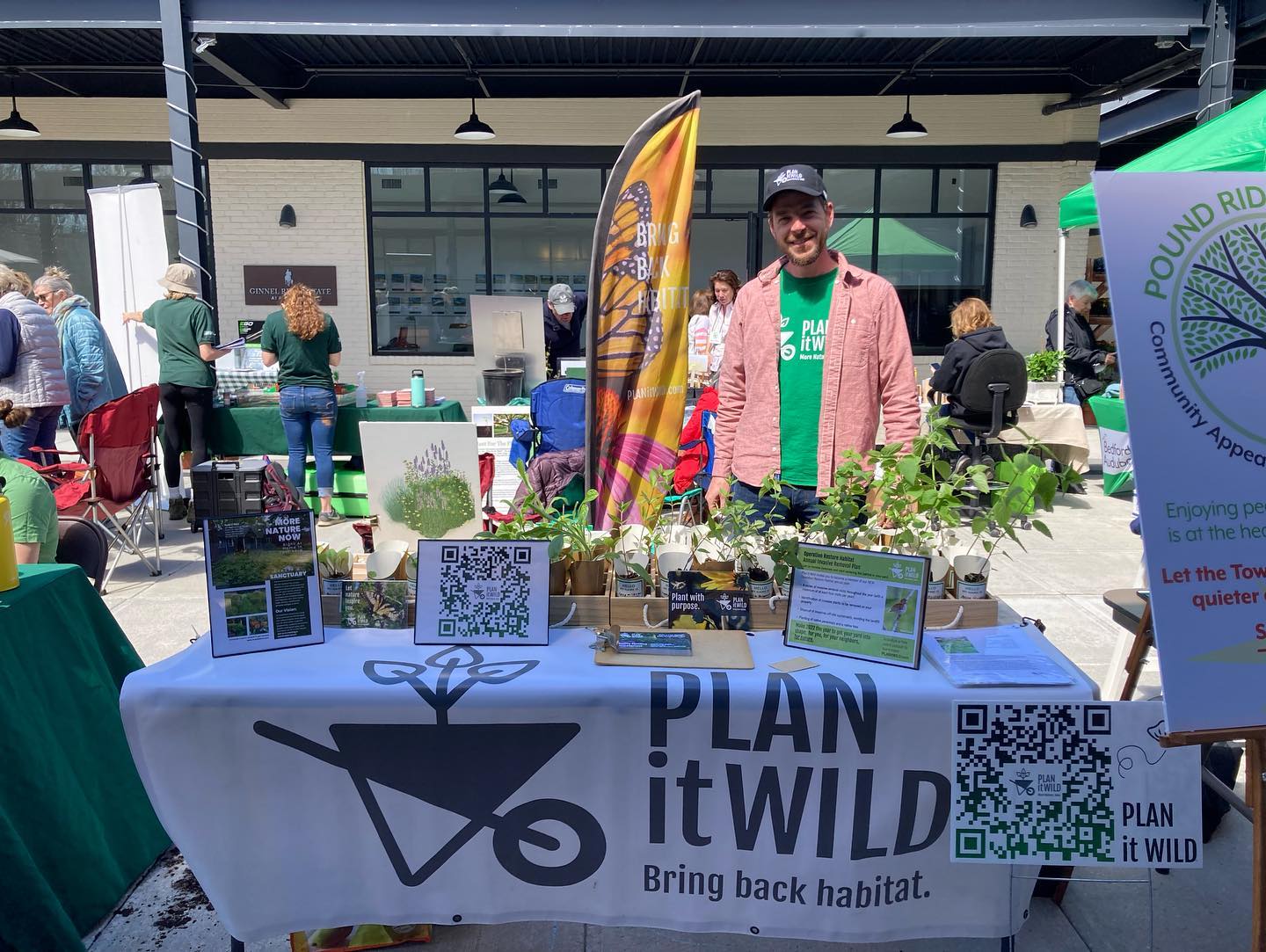 At Plan it Wild, Bayley and her team don't want to be compared to the traditional landscaping industry because they say they're doing something completely different. 
"We're helping not just to expand the biodiversity but also to reduce the carbon footprint, plant [native], and end the use of fossil fuels," Bayley explains. 
Working with a property owner, Bayley says her team can show their clients what they can do with their yard beyond traditional mowing, blowing, and pesticide spraying.
"That business model is so dependent upon doing it quickly in a very controlled way because that's how [the industry] makes money," Bayley adds. "Our priority is biodiversity and doing more with your yard than just mowing it."
David Baker, vice president of Landscape Operations at Plan it Wild, says the time is right to help homeowners change their thinking.
"A lot of people don't realize how polluting gas and oil trimmers, blowers, and mowers actually are," Baker explains. "People see them as smaller and not as destructive as cars, but that's not really the case with the hydrocarbons they emit."
According to the United States Environmental Protection Agency (EPA), hour-for-hour gasoline-powered lawn mowers produce 11 times as much pollution as a new car. The EPA estimates that lawn care as a whole produces 13 billion pounds of toxic pollutants per year.
While there are landscapers using electric-powered equipment and designers who build unique landscapes with native plantings and remove invasives, Baker says it typically happens separately. 
"There's nobody mowing and maintaining your property, as well as doing 100 percent native planting," Baker explains. "We're unique in that bucket."
Archer says that what his company is doing, as well as Bayley's team at Plan it Wild, aren't as common.
"Amanda and I represent a small but growing market in ecological design development," Archer says. "People who reach out and hire us, they want what we offer." 
Bayley says that while ecological concepts can be complicated, she's trying to synthesize best practices and show homeowners how to apply them to the American yard. 
Things like repurposing leaf litter instead of discarding it as yard waste, planting native, and removing invasive species all have value, and Bayley's team is working to show their clients the many ways their yard can better support biodiversity and combat climate change. 
While Bayley and Baker say it remains discouraging to see so many property owners and contractors throughout Westchester continue to use pesticides, mow incessantly, and use fossil-fuel-powered machinery, being able to change the minds and practices of some is most gratifying.
"Some people don't care, and it's exhausting. Then others do, they pay for our services to do it, tell their neighbors, and then their neighbors call us because they're like 'They're thinking in a different way,'" Baker explains. "That's by far the most rewarding."
---
Bailey Hosfelt is a full-time reporter at Examiner Media, with a special interest in LGBTQ+ issues and the environment. Originally from Connecticut and raised in West Virginia, the maternal side of their family has roots in Rye. Prior to Examiner, Bailey contributed to City Limits, where they wrote about healthcare and climate change. Bailey graduated from Fordham University with a bachelor's in journalism and currently resides in Brooklyn with their girlfriend and two cats, Lieutenant Governor and Hilma. When they're not reporting, Bailey can be found picking up free books off the street, shooting film photography, and scouring neighborhood thrift stores for the next best find. You can follow Bailey on Twitter at @baileyhosfelt.
---
TELL US WHAT YOU THINK! TAKE OUR BRIEF READER SURVEY NOW
Please help us serve you better by completing this brief, four-minute survey.
We'd love to know your thoughts and opinions on what you like, what you'd like to read more about, and how we can do better.
CLICK HERE to take our survey or visit
www.surveymonkey.com/r/ExaminerPlus
---
Examiner Media is a proud participant in The Trust Project.

CLICK HERE to review our best practices and editorial policies.

This piece is a news article. CLICK HERE to learn about our definitions for types of stories.

We welcome corrections, story ideas, and general feedback. CLICK HERE to use our actionable feedback form.
---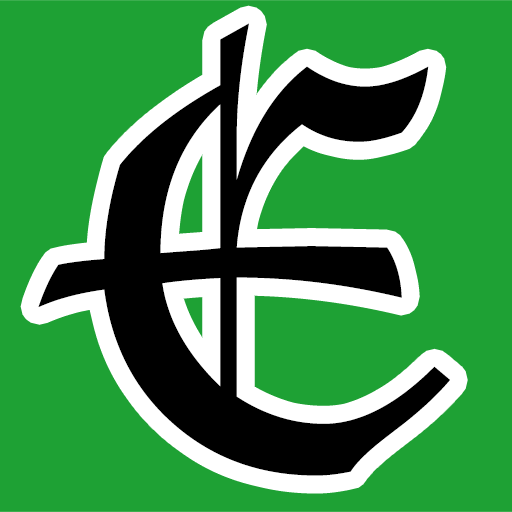 Examiner Media – Keeping you informed with professionally-reported local news, features, and sports coverage.