Restaurant Examiner: Special Lunch Deals Abound at Elmsford's Capatosta Trattoria
We are part of The Trust Project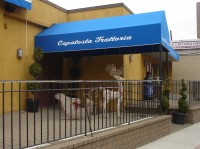 A bevy of new lunch specials is being offered at Capatosta Trattoria in Elmsford in its dining room and neighboring pizzeria. Most of the luncheon specials can be ordered in both establishments but a few are available in the pizzeria only.
Pizzeria-only specials ($6.50). A cup of soup with a half wrap or one-half of a hero containing chicken parmigiana, eggplant parmigiana or meatball parmigiana. The soup choices are Pasta Fagioli, lentil or chicken with vegetables. Another pizzeria-only deal is two slices with a free fountain drink for $5.58, including tax.
All of the following specials are available in both eating areas. Prices do not include tax.
Specials ($7.50). Rigatoni with chicken and pesto; linguini puttanesca; and penne with chicken, olives and grape tomatoes.
Specials ($8.95). Spiedini romana; eggplant de la nonna; asparagus quattro formaggi; pasta penne with pesto sauce; rigatoni siciliana with eggplant, peas and marinara sauce; baked ziti; pasta and meatballs; and penne valdostana.
Special ($9.95). Pecorara chicken with goat cheese, spinach and marinara sauce.
Fish Specials ($12.95). Tilapia livornese with black olives mush and filet of sole francese.
A five-course meal served family style all day for four or more people is priced at $35 per person, plus tax and tip. Appetizers (fried calamari, mozzarella contadina, bruschetta and cold antipasto) are shared by all and are followed by Pulcinella salad (romaine lettuce, grape tomatoes, cucumbers, roasted peppers and onions). Two pastas, fioretti and cavatelli broccoli, are served next (other pastas may be substituted). Three entrées follow: chicken pecorara, tilapia Francese and eggplant parmesan. The meal concludes with vanilla gelato with raspberry sauce and coffee, cappuccino or tea.
Happy hour runs from 4 to 6 p.m. at the bar only and includes $6 cocktails, beer at half price and regular-size appetizers at $6.
Customers can create their own pizzas with ingredients on hand at the pizzeria. Specialty pizzas are offered in three sizes; Sicilian pizzas come in one size only.
Restaurant and pizzeria dishes are available for takeout as are three- to six-foot hero sandwiches (An advance order is needed.). A lengthy catering menu lists half trays (typically $35 to $40) and full trays ($70 and up).
Capatosta Trattoria is located 121 E. Main St. in Elmsford. It is open for lunch and dinner seven days a week. Lunch is available from 11 a.m. to 3 p.m. Free parking is available behind the restaurant. For reservations, call 914-345-3200. The pizzeria can be reached at 914-592-8800.