Restaurant Examiner: Saltaire Oyster Bar and Fish House to Open in Port Chester
We are part of The Trust Project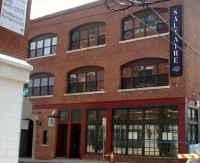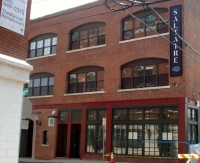 Saltaire Oyster Bar and Fish House will complete a major renovation and open in late August in Port Chester, owner Leslie "Les" Barnes said during a recent interview. The restaurant is located in the Willet House Building, built by the Westchester Grain Company in 1903. "A building like this is a rare find," Barnes pointed out.
The menu will change daily, with its offerings determined to a large extent by the seafood purchased at the Fulton Fish Market in Hunts Point each morning before the sun rises. "I speak the language of salty fishmongers and oystermen," Barnes said. "My father would wake me up at 3 a.m. to go to the fish market."
"The timing is right to open Saltaire," added Barnes, 59, who at 22 took over running London Lennie's, a seafood institution in Rego Park, Queens, founded in 1959 by his father Leonard, an ex-sailor.
Joining the venture is Chef Bobby Will, who has relocated from the New England area to head up the kitchen.
Seafood towers of lobster, shrimp, clams, mussels and crab claws will range in size from Hook (small) to Line (medium) to Sinker (large). The oyster bar will offer a rotating lineup of 10 to 12 in-season oysters.
"Select" special dishes will include fried Point Judith calamari, Palmer Island skate wing, red snapper ceviche (with charred lime, Sorrel Verde, cashew-Yuca purée) and grilled octopus.
Non-seafood items will include rib eye steak and a burger with pickled Portobello.
Soup and salads will range from $9 to $12, starters from $10 to $14, entrées typically from $15 to $32, and desserts from $7 to $10.
A New England Lobster Bake, served as a special on Sundays, comes with fingerling potatoes, corn, chorizo-fennel salad, and drawn butter.
Cocktails display vivid creativity and include: The Goose is Loose (aperitif soaked kumquats poached in Sauvignon Blanc, prosecco, and orange bitters) and The Saltaire #2 on tap (vodka, cucumber juice, basil, yuzu and the restaurant says "salt air."
The mixologist is Clinton Terry.
Wine director Brad Haskel's selections represent many parts of the globe with wine by the glass priced from $10 to $18. The beer program, the responsibility of Teagan Barnes, one of the owner's four daughters, includes nine brews on tap and a rotating bottle list.
Chef Bobby Will grew up in Ipswich (a coastal town north of Boston), and spent many afternoons searching for clams and mussels along the town's Cranes Beach, as well as hunting deer and small game. His father was a seafood restaurant operator and while Will was in high school, he took culinary classes.
Following graduation from the Culinary Institute of America in Hyde Park, Will spent a year as Sous Chef at Boston's Tremont 647, and then became Chef de Tournant at Gargoyles on the Square in Somerville, MA. Next, he joined Tryst Restaurant in Beverly, MA in 2008 as Chef de Cuisine and in late 2011, moved to Atlantic Inn and Restaurant in New Shoreham, RI, as Executive Chef. Before coming to his current position, he was Executive Chef at Fathom Restaurant in Bar Harbor, ME. He plays guitar and trumpet and is a new resident of Port Chester.
The interior of the restaurant has exposed brick walls, wood beams and 30-foot ceilings. The dining room walls are decorated with photos of fishermen at sea and antique fishing maps.
The restaurant opens for dinner seven days a week at 4:30 p.m.
Saltaire Oyster Bar and Fish House is located at 55 Abendroth Avenue, Port Chester; 914-939-2425, www.saltaireoysterbar.com.