Resignation of Brewster Administrator Prompts Questions
We are part of The Trust Project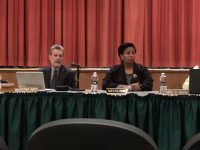 Following the abrupt retirement of Brewster High School assistant principal Kieran Stack last Thursday, the Brewster Board of Education held a special meeting the same day where concerned parents demanded more information and transparency regarding the situation.
With Christopher Vlangas, a former Naval Science Instructor in the Navy Junior Reserve Officer Training Corp. program, recently arrested for allegedly engaging in sexual conduct with a 16-year- old female student, parents questioned if Stack's retirement was related to the arrest.
"We've been damaged to the core by these two events, which I will stipulate are not connected," school board president Stephen Jambor said to the roughly 50 parents in attendance. "A request for retirement was tendered and we acted upon it without delay. It's not our fault that people choose to retire when they choose to retire."
Earlier in the day, Superintendent of Schools Dr. Valerie Henning sent a letter to the parents informing them that Stack made a personal decision to retire and would not be returning to the school district. Harvey Schnall is serving as interim assistant principal.
While the board unanimously accepted the application for retirement, only Jambor addressed the tense crowd of parents who felt information was being withheld. Speculation over the mid-year retirement has run rampant on social media sites.
"There's something that has to be behind it and I want reassurance that my kid coming to this school is going to be safe," parent Nicole Castillo said. "I know you're trying to protect yourself, but we have kids in this school. We're taxpayers and we're parents and we want some kind of explanation as to what's going on, it's only fair."
Castillo added that while she understands the school district legally cannot speak on certain issues, the rights of the students should be protected. Parent Rick Droesch agreed, stating that the sudden retirement has left parents unable to trust the district.
"This school district has been broken for a long time and it's a shame that we have back-to-back incidents that have to come out like this and we as taxpayers want to know what is the truth behind the assistant principle's forced retirement," parent Marion Hamm said. "We don't want more negative light in our schools, but it's happening and nobody seems to tell the truth, nobody wants to say the truth."
While Jambor stressed that the students' welfare is always a priority, he added that nothing could be said to reduce the fear and speculation running wild within the community.
"We are not at odds with you, we are trying to uphold the dignity of due process and not run the risk of doing something dumb that could cause us more grief," Jambor said.
The following day, the district issued a note to the community repeating the retirement of Stacks isn't connected to the Vlangas arrest and "is in no way connected to any issue regarding the safety or welfare of children."
The note also revealed Stack's retirement date will be June 30, 2018 even though his agreement to retire begins right away. He will be taking sick leave until Jan 1 and from Jan 1 to June 30, he will receive paid leave from the district, according to the note.
"It was determined by the Board that the terms of the separation agreement served the District's bet interest," the note stated.
With Vlangas' arrest making parents question district methods, Jambor assured parents the board would be re-evaluating the staff, stating how nothing can be taken for granted moving forward. He also added that the school cameras have been instrumental in uncovering information.
Vlangas was transferred into the custody of the Putnam County Sheriff 's Office from Connecticut authorities last week and was arraigned by Carmel Justice Court where he was remanded to county jail in lieu of $150,000 cash bail or $250,000 bail bond. He is facing rape charges.
While parents also claimed that district officials ignored complaints made against Stack and other staff members in the past, Jambor requested complaints be filed in the form of an affidavit, asserting that he needs written facts in order to handle a situation.
"I don't need a Facebook stream, I need facts," Jambor said.
With several parents disappointed their questions went unanswered during the hour-long meeting, parent Michele Shkreli asked the board to reassure the crowd that accusations of misconduct and sexual abuse against Stack wouldn't blindside the community in the upcoming weeks or months.
Jambor said he is unaware of what information is out there, adding it would be wrong for him to assume anything.
"I'm in a damned if you do, damned if you don't predicament right now. We have been in constant advisement with law enforcement on one matter and our legal counsel on all matters and we've been advised to be careful," Jambor said. "If we believe in our pride, and I do, we want to be a good school district and a good school district, in my opinion goes after the good stuff and the tough stuff together. We're going to get through this, we have to on behalf of our kids."