Residents, Officials Continue Fight Against DOT Towers
We are part of The Trust Project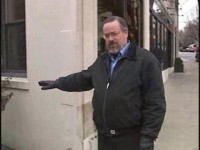 Pleasantville residents have mobilized to fight the state Department of Transportation's efforts to build 125-foot telecommunications towers along the Saw Mill River Parkway.
Last Wednesday, residents gathered at Starbucks on Memorial Plaza to try and make the public aware of the proposed project. On Sunday, a meeting was organized by concerned residents at the Mount Pleasant Public Library on Bedford Road, which drew about 30 people
Residents Helene Dahan and Amy Shahinllari raised serious questions regarding the towers, including the effect on property values and aesthetics, possible health concerns and privacy issues. They also said the state should be spending money on flood mitigation rather than monitoring traffic.

"I am joining with everyone to have a united front," Shahinllari said. "I have three young kids; the health effects are hideous. No one wants to live next to this."
Dahan criticized DOT for not providing any information about potential environmental impacts, including health risks and the effect on wildlife.
"We don't have any information," Dahan said. "How will these poor people sell their homes?"
Shahinllari, who drives the Saw Mill about four times a week, said traffic is only an issue in the area when it rains.
Last Friday, Pleasantville Mayor Peter Scherer, New Castle Town Administrator Penny Paderewski and Mount Pleasant Supervisor Joan Maybury met with DOT officials in an attempt to reach a resolution. The DOT has proposed 17 towers along four state parkways in Westchester to help communicate traffic problems to authorities and the public.
Locally, two are proposed for Mount Pleasant, one on the median of the Taconic State Parkway in Hawthorne and another three-quarters of a mile south of Grant Street in Thornwood; two are proposed for Pleasantville, including one at Grant Street; and three in New Castle about .8 miles apart, with the northernmost tower at Roaring Brook Road.
Scherer, who called the meeting inconclusive, said that the state is in the midst of reviewing the project and will provide a timeline of when the village will receive a response to all concerns raised.
"This substantial investment doesn't seem to warrant the investment at all," said Scherer, who mentioned he was frustrated following last week's meeting, although he pointed out DOT officials were willing to listen.
"There isn't any reasonable belief that the data the cameras provide will improve anything," he said. "It is utterly unbelievable that a project of this scope would get this far without a detailed briefing of the affected communities."
Mark Markarian, who led Sunday's meeting at the library, said the residents' goal should be to stop the towers and explore other options.
"When they put these towers in they are going to be reducing property values, which reduces revenue," he said. "They are going to be hurting themselves."
New Castle Supervisor Susan Carpenter, who was briefed by Paderewski following the meeting, said there is a possibility the DOT could agree to having some of the telecommunications equipment buried underground similar to other areas, but the agency may be hesitant on that matter.
"The reasons why they didn't want to do that is because it's too expensive underground," Carpenter said.
Meanwhile, Markarian said more people are needed to spread word of the looming threat.
"If we get 500 people, then we make the news," Markarian said. "If we get 5,000 people, then government starts shaking."
Attendees planned on passing out flyers at the Pleasantville, Chappaqua and Hawthorne Metro-North stations this week and to have local stores display the information.
DOT spokeswoman Susan Stepp, who acknowledged that her office was deluged with phone calls from Pleasantville last week, said DOT is open to alternative ideas.
"The installation of the poles is not imminent," Stepp said. "We have plenty of time to examine what we want to do. I understand residents are opposed to this project."
Stepp said that in 2007 the agency informed officials in all host municipalities about the project, she said.
"We reached out and told people that if they have any questions to give us a call," Stepp said. "No one ever did. I'm a little surprised by the public opposition."
Scherer said that was a ridiculous claim to make, and said that five years ago DOT never revealed what they were doing.
"There was no specificity in the early documents of how tall the project would be, where it might be or what the impact of the project would be," Scherer said. "Governments would never accept such assertions from a private homeowner or developer."
Scherer also noted that in 2007 he, Carpenter and Maybury were not in their current capacities as mayor or supervisor.