Residents Mixed on Returning to Movies During Pandemic
We are part of The Trust Project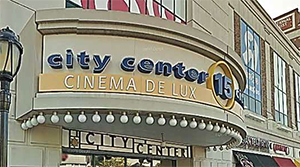 White Plains resident Ana Soto-Castillo used to love going to the movies with her kids before COVID-19 shuttered theaters in March. But with Gov. Andrew Cuomo allowing cinemas to reopen, Soto-Castillo said it gives her hope that a sense of normalcy will be restored after spending months inside.
"It's unbelievable what this country is going through; it's awful, it makes me feel frustrated and sad at the same time," Soto-Castillo said. "Now, knowing that movie theaters will be opening makes me feel very enthusiastic (to have) some type of normality after so many months feeling a sensation of being trapped."
City Center 15 Cinema de Lux on Mamaroneck Avenue in White Plains reopened Friday following a nearly eight-month shutdown caused by the virus. However, movie watching will offer a different experience with Cuomo implementing a slew of restrictions to prevent localized COVID-19 outbreaks.
Currently, theaters outside of New York City and the state's "red zones" can operate with 25 percent capacity and no more than 50 people per screen. Theaters will only be able to operate if the infection rate in the county where they are located is less than two percent on the 14-day rolling average.
Furthermore, other requirements call for mandatory mask wearing unless someone is seated or eating or drinking; assigned seating to ensure social distancing at all times; additional staff to control the flow of patrons and ensure compliance; and an enhanced air filtration system, ventilators and air purification.
Despite the strict safety measures, there are mixed feelings among community members about returning to the movies. While Stacy Goran believes going to the movies is no different than following the health guidelines whilst indoor dining or flying on an airplane, Jojie Jugo-Velasco said she doesn't want to put her kids at risk.
Jugo-Velasco said it was a struggle explaining to her kids that they would have to sacrifice some of their favorite activities over the course of the pandemic, but added they understood her fear after five family members – three of which were seniors – tested positive for COVID-19 after being exposed to asymptomatic individuals.
"As a parent, I need to protect my family, especially my children," Jugo-Velasco said. "There are many things that we love to do together that we need to put on hold because of the pandemic."
Jugo-Velasco added that though she believes cinemas will do whatever it takes to keep the theaters clean and safe for those who want to go, she won't feel comfortable returning with her family until there's a vaccine in place.
White Plains resident Jodie Lynn agreed, adding that though she and her boyfriend often went to the movies prior to the pandemic, the risk currently outweighs the enjoyment of going.
With fewer movie goers, theater companies will face another challenge with studios delaying the release of several films, especially blockbusters, such as "Black Widow" and the James Bond film "No Time to Die," to 2021. Other studios have resorted to premiering movies, like "Mulan," on streaming devices in lieu of the theater.
Currently, Showcase Cinemas, which operates City Center 15, is screening a mix of new films with returning Halloween classics, including "Monsters Inc.," "The Exorcist," "The Conjuring," and "It Chapter Two." The theater is also offering private screenings for up to 20 people for $99.
With the health and safety of customers and staff a priority, Showcase Cinemas plans to implement measures beyond what's required by the state. Along with a mask mandate, the theater company will install new bi-polar ionization air-purifying systems and updated air filters in all cinemas and switch to contactless payment options, with food, beverages and tickets available for pre-order through the Showcase App.
Concessions will also be available in covered containers, with plexiglass shields added at the box office and concession areas. Additionally, hand-sanitizing stations will be accessible throughout the cinema and extensive cleaning protocols will be in place throughout the day, between showtimes and at the close of business, with time between showings spread out to clean auditoriums.
"During the last few months, we have worked with our industry partners to re-envision our Showcase customer experience to make health and safety our main focus," said Mark Malinowski, Vice President of Global Marketing. "We are calling our program Be Showcase Safe and are strongly encouraging our customers to work together with our employees and follow these new health and safety protocols as we are working toward the same goal – a safe and fun movie-going experience!"
While other Westchester theater have gone virtual, with the Bedford Playhouse reopening last weekend, some communities have offered outdoor movies or transformed parking lots into drive-in theaters. But the news of theaters reopening comes too late to help at least two local venues – the Mount Kisco Theater and the Regal Cinemas multiplex at the Cortlandt Town Center in Mohegan Lake.
In late summer Bow Tie Cinemas, the operator of the theater on Main Street in Mount Kisco, confirmed that it was shuttering the facility. Another Bow Tie Cinemas theater on Knollwood Road in White Plains also closed.
Cineworld, which operates Regal Cinemas, also announced it would be closing all 500-plus movie theaters throughout the United States, although some of those may reopen in the future. Regal had 44 New York locations which suspended operations because of continued revenue losses from the pandemic.
"This is not a decision we made lightly, and we did everything in our power to support safe and sustainable reopenings in all of our markets — including meeting, and often exceeding, local health and safety guidelines in our theatres and working constructively with regulators and industry bodies to restore public confidence in our industry," Cineworld CEO Mooky Greidinger said in a statement to investors.
With no shortage of challenges ahead, White Plains resident Christian Suqui-Rodriguez said he was ready to return to the movies on Friday. Despite health concerns raised by many, he said it should be safe to see movies again if everyone follows health protocols and theaters have the right safety measures in place.
"I definitely plan on going to the movies," he said. "I have missed going to the movies. If I can shop at a store and eat a restaurant then watching a movie isn't such a big deal."