Relay for Life Benefits from Brewster Girl's Birthday Party
We are part of The Trust Project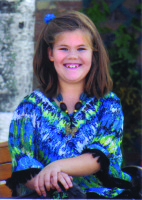 When an 8-year-old has a birthday party one would expect there to be a lot of birthday presents. However, when Erin Kelly of Brewster held her glow-in-the-dark Zumbatonic birthday party last month she asked all of her guests not to bring her any gifts.
Instead, Kelly asked all of her friends to make donations to Relay for Life in memory of her maternal grandmother Lorraine Culley, who Kelly warmly refers to as Nanny. Culley died from cancer on April 1, 2010.
"It was totally her idea and it has made her very glad and proud to be able to do this," said Kelly's mother Jennifer Kelly.
Relay for Life is the main volunteer-driven cancer fundraising event of the American Cancer Society. Local events are held annually in Mahopac, Patterson and Cold Spring.
Kelly, who is in second grade at John F. Kennedy Elementary School, has participated in Relay for Life events in Mahopac and Patterson as a member of Team Jiggin 4 a Cure with her extended family, parents, and big brothers Liam and Sean.
"The kids walk the track and participate in other fund raising activities with the team throughout the year," said Jennifer Kelly. "Her uncle and new aunt donated a great deal of money to the team last year in memory of Nanny as well as they chose to use what they would have spent on favors as the donation.  So giving to the relay team is important to the whole family and has been for many years."
Jiggin 4 a Cure is led by Siobhan O'Connor-Trippodo, one of Kelly's dance teachers at Kelly Oster School of Irish Dance in Mahopac. The team included other member of the dance school as well.
Through the birthday donations, Kelly raised $300.
This year Relay for Life of Mahopac will be held on June 1- 2 High Mahopac High School. June 2-3 will be the Relay for Life event in Cold Spring at Mayors Park. Then the Relay for Life of Patterson, which is holding its first overnight event, will be held June 8 and 9 at the Patterson Fire Department.
For more information on Relay for Life, contact Tracey Walsh at tracey.walsh@cancer.org or call 845-490-8812.