Reenacting the Battle of White Plains 237 Years Later
We are part of The Trust Project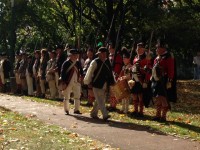 The Battle of White Plains 237th Anniversary Commemoration and reenactment took place at the Jacob Purdy House National Historic Site (General George Washington's Headquarters) on Park Avenue, White Plains, Sunday afternoon.
Military drills, musket fire and interactive demonstrations of Revolutionary War camp life were acted out by members of the White Plains Historical Society.
Even General George Washington was on hand to inspect the troops.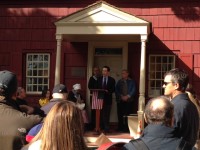 The names of White Plains soldiers who died during the battle were read aloud.
A special project of the White Plains Historical Society has compiled a list from various primary and secondary sources to identify those individuals (American, British and German) who participated in the Battle of White Plains, the regiments in which they served, and as many details as possible as to where they were positioned and what happened to them during those days. The list, which is available at www.whiteplainshistory.org is updated on a regular basis. The public is welcome to make additions and corrections.
Following the reenactment across the way at Battle Hill, Battle Whitney Park was rededicated as Battle of White Plains Park.