Ragtime Shines on Westchester Broadway Theatre
We are part of The Trust Project
Standing Ovation Studios, under the direction of John Fanelli, has taken on its biggest production ever with the staging of "Ragtime The Musical," which opened at the Westchester Broadway Theater a few weeks ago and continues until May 4.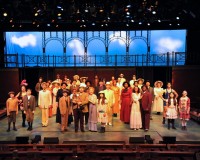 The show, based on E.L. Doctorow's novel "Ragtime," is the quintessential immigrant story, beautifully retold on the Elmsford stage with the help of powerful voices and dance talent that matches anything you'll find on Broadway.
It tells the tale of three distinct socio-economic groups living in turn-of-the-century New York between 1904 and 1906 and their struggle to adapt. The story depicts characters living in very different places, from New Rochelle, Harlem and the immigrant melting pot of the Lower East Side.
"This is a very large piece of musical theater in so many ways," said Fanelli, who has spent the past 17 years directing, teaching and creating programs for young people in the theater arts.
"Between its powerful and varied musical score, large cast across three ethnic groups, set designs that include a working Model-T automobile, and an intricate story anchored to historical events and figures of its time, we are raising the bar for our local audiences, which is both exciting and challenging."
The main characters include Tateh (Joey Sanzaro), who plays the Latvian immigrant expecting to find riches in America, but then sees his dreams quickly dashed; Coalhouse Walker, Jr., (Fatye), a black Harlem piano player who is trying to fit into a society that is prejudiced against him, but still hoping to build a life with Sarah and their son; and the upper class New Rochelle family, led by Mother and Father (Victoria Lazun and Craig Waletzko), who are fearful of the social change that is taking place around them.
The stage comes alive in the opening scene with the company's large cast making their introductions and performing the title song that is also the prologue. It is then that the audience gets a hint of what's to come in this large, sweeping show, a production that includes a cast of 40, including local, national and New York City talent.
Elements of early 20th century culture are woven throughout the musical, including the vaudeville theater scenes featuring the famous beauty Evelyn Nesbitt (Cali Laspina) and Henry Ford's assembly line, where the first cars are being produced.
Among the powerful voices that emanate from this grand production are Fayte, no stranger to the WBT, having performed in "Big River," "Hairspray," "In The Heights" and other Fanelli-directed shows.
Other strong performances include Brittney Johnson (Sarah).  Johnson has an outstanding voice, and coupled with Fayte, their rendition of "The Wheels of A Dream" and "Sarah Brown Eyes" overflow with emotion.
Sanzaro, a Pleasantville native, delivers a fine performance as the immigrant Tateh, with a tenor voice that easily fills the stage. Sarah's friend, played by Raena White, also makes a formidable appearance, belting out "Till We Reach That Day" with force, before being accompanied by the show's other main characters.
A number of historical, bigger-than-life personalities are incorporated into the story making this a truly fascinating show. The anarchist Emma Goldman (Nadine Zahr), Henry Ford (Todd Allan Little), Harry Houdini (Joey Barreiro), J.P., Morgan (Steven Stein-Grainger), architect Stanford White (Evan Mayer) and African-American educator, author and orator Booker T. Washington (Antoine L. Smith) are all woven into the story.
Performances of "Ragtime the Musical" are playing Thursday through Sunday evenings as well as Thursday and Sunday matinees. A special ticket price of $67 plus tax is offered for all performances, with additional discounts for seniors, children and groups. The price includes the show, a three-course meal and parking.
For tickets, call the Westchester Broadway Theatre at 914-592-2222 or visit www.RagtimeWestchester.com. The theater is located at 1 Broadway Plaza in Elmsford.
Colette Connolly is a copywriter and p.r. expert. She owns Connolly Communications, which is based in Bronxville, New York. Colette specializes in providing content-rich, SEO-optimized press releases, articles, newsletters, brochures, and customer success stories.