Quakers Pull Away in the Second Half to Defeat Briarcliff
We are part of The Trust Project
Both the Horace Greeley and Briarcliff girls' basketball teams lost a top-notch senior player near the start of the season. Both were frontcourt players and each suffered a season-ending  knee injury. So for the two teams, it was almost like looking in the mirror when they met on Friday evening.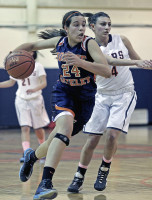 But for Greeley, after losing center Lindsay Hill, the recovery has been smoother than that of Briarcliff's after losing forward Brianna Celaj. That was evident as the Quakers handily took care of the Bears with a 61-45 road win. While the outcome remained in doubt after the first half, Greeley's defensive adjustments proved too much for Briarcliff to overcome. A lopsided third quarter eventually led to a rout with Greeley in control for the final 16 minutes.
"They had two plays that were killing us in the first half that were all screens, so at halftime we just adjusted by switching on the screens so they weren't able to get the open looks they got in the first half," Quakers coach John Alkalay said. "And then it seemed they got a little flustered and had to throw up very difficult shots."
And it was a flurry of difficult shots that led to just five points in the third quarter for the Bears. While Briarcliff's leading scorer, Summer Horowitz, played a strong first half, the Greeley defense denied her the ball on almost every possession after halftime, leaving her scoreless in the third quarter.
"We weren't going to let her beat us," Alkalay said of Horowitz, "because we know she's their top player."
Greeley's approach worked as other Briarcliff players struggled to hit shots. And while the Bears couldn't find the range, Greeley seemed to get contributions from everyone. Five different players scored in the third quarter alone for the Quakers. And as usual, star guard Jackie Brett was orchestrating the offensive output.
Brett finished with a game-high 24 points and when she wasn't shooting the ball she was dishing it out to open teammates.
"We needed her to score today and especially when they were pressuring us she handled the ball really well without turning it over," Alkalay said "And even if she wasn't scoring, she hit a few of our shooters for open 3s."
Brett's no-look pass to freshman Lauren Brown for an easy layup put the Quakers up by double digits with just over six minutes left in the third quarter and they never looked back from there as their lead swelled to nearly 20 points heading to the final quarter.
Brown finished with 13 points and junior Samantha Srinivason chipped in with eight. Briarcliff got 23 points from Horowitz and six from Marissa Contento.
"We need people to step up big time," Bears coach Don Hamlin said. "Summer brings it every game and it's the one thing we're talking about after the game. We've got to play with a little bit more intensity and a little bit more hunger or we're going to struggle."
Even though the injured Celaj was lost after the fifth game of the season, making up the 17 points she averaged remains a struggle for Hamlin. As for Greeley, while the injured Hill wasn't that kind of  proficient scorer, Alkalay said her rebounding and shot-blocking ability made a difference in any game.
But as the season winds down, it's a challenge both teams have to face.
"It's hard to replace either one of those kids and some days we play hard enough that we can kind of overcome it and some days we don't," Hamlin said. "And I think (Greeley) runs into that as well."