P'ville's Westchester Table Tennis Center Venue for New TV Pilot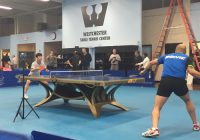 By James Best
The Westchester Table Tennis Center in Pleasantville has been home to wide variety of tournaments since it opened its doors. Now it's the location for the filming of a new television show.
Last Monday night actors, comedians, professional table tennis players and ping-pong enthusiasts converged at the center on Tompkins Avenue to film the pilot for a show called "Pong Court."
The premise of the show, produced by Orson Entertainment, pits rivals against one another at a ping-pong table to resolve sometimes bitter, long-standing grievances between neighbors, husbands and wives, corporations, celebrities and sports stars in a fun way. Plans call for "Pong Court" to be developed from the pilot into a multiple series format.
Westchester Table Tennis Center is one of the largest facilities of its kind in North America, hosting multiple tournaments a year and featuring world class players alongside ping-pong lovers of more modest ability. Robert Roberts, a three-time table tennis champion in the Caribbean and the center's manager, and Rawle Alleyne, a 15-year national table tennis coach in Barbados, are among those who play there.
Center owner Will Shortz, one of the producers of "Pong Court," said having a television show filmed at the facility is a great way to showcase a sport that many people may think of only as a recreational activity.
"One of my dreams has been to get sponsorship for our club and it's a very difficult thing to do," Shortz said. "I thought this show was our best opportunity for making table tennis huge. It brings the game down to a level everyone understands when you are settling a grudge over a ping-pong table, everyone thinks they're pretty good. So if you got a dispute, settle it here."
"Pong Court" is also a great opportunity to introduce some of the sport's top competitors, who also appear in the show, Shortz said.
One of those players is 18-year-old Kai Zhang from Beijing, China. Zhang said table tennis has been critically important in making him a stronger person mentally and physically.
"What I love the most about table tennis is the fact that this is a brain game," Zhang said. "It's not just physical, you have to be smart and mentally strong and have a good mentality and learn how to deal with pressure."
Scott "The Ping Pong Man" Preiss, a trainer who has coached Olympians, is the co-creator of "Pong Court" and one of its producers. Preiss said it may help more people understand the sport and make it more marketable in the United States.
"The only thing that people remember is that the Chinese play and they stand far away from the table," Preiss said. "They have no other knowledge of the sport. But everyone has played ping-pong growing up, my dad taught me, everybody has learned from somebody, everybody played at parties, everybody had some kind of childhood memory. That's what we're trying to do. Bring back the memories that everyone has and making them real. Now were bringing it to the public."
The pilot began with a battle between two of the best table tennis players of the 1970s. Connie Sweeris, a member of the 1971 U.S. world team, faced off against her rival Alice Green. Sweeris swept Green in three games.
Comedians Jessica Brodkin and Sara Armour also competed against each other as "Ludmilla" and "Sara Steinstien."
The main event featured Zhang versus Sameh Awadallah, a member of the Egyptian National Table Tennis team.
Zhang and Awadallah battled in an intense match that showed the audience just how special table tennis can be when played at its highest level.
"We saw some fantastic points tonight," Shortz said. "So if table tennis is ever going to be big and reach a mass audience it's something like this that might do it. If you go on YouTube and look up the ten most amazing table tennis points of 2015, it's got literally millions of hits, people love to watch it so maybe we can make a whole show of it."