P'ville School Trustees Head to Albany to Plead for Fiscal Relief
We are part of The Trust Project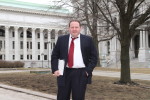 Two Pleasantville school board members made the trek to Albany on Monday to impress state legislators that changes in education funding are needed.
Board Vice President Shane McGaffey and Trustee Louis Conte made the drive upstate to talk with key representatives in the Senate and Assembly during a legislative forum about the problems suburban school districts are facing with spiraling costs.
McGaffey and Conte spoke with the Assembly's Education Committee Chairperson Cathy Nolan and Senate Education Committee Chairman John Flanagan. Legislators from the local area that attended included Assemblyman Tom Abinanti and state senators Greg Ball and George Latimer. About 10 school board members from districts in Westchester County attended, Conte said.
Two keys points McGaffey raised were the complications connected with the Triborough Amendment, which mandates that the terms of an expired contract continue until a new agreement is signed, and rising pension costs for teachers.
Conte said he wanted to get the message across that suburban school districts are at a "financial crossroads."
"Our message was simply this: we are capped, we understand that but at that same time the bills you're giving us put us over the cap," Conte said.
McGaffey showed legislators a Lower Hudson Council of School Superintendents survey of the 2013-14 pension expense increase as a percent of the tax levy increase, which he thought was an effective chart for legislators to see. For Pleasantville, that number is 92 percent.
During the day, McGaffey and Conte also learned which legislators were presenting bills that would assist Westchester school districts and tried to see what they could do to help gather more support for those measures. One bill Nolan is working on is to allow school districts to establish a reserve fund for pension costs that would be separate from the rest of the budget.
One piece of good news McGaffey and Conte received was regarding a bill now being considered by the Senate that would restore $450 million to education funding statewide. It's still unclear if it has enough support to pass both houses of the legislature.
"I do think they're beginning to understand the framework of our problem, which is their problem," Conte said of the Senate.