P'ville Production to Follow Dreams for 'The 'Rest of Your Life'
We are part of The Trust Project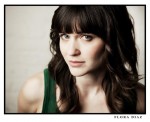 By Molly Stazzone
There will always be struggles when people decide to follow their dreams.
On Thursday night, the Axial Theatre Company at St. John's Episcopal Church Community House in Pleasantville will raise the curtain on its latest production, "The Rest of Your Life," directed by Drama Desk Award Winner Josh Hecht and written by award-winning playwright Megan Mostyn-Brown.
The story centers on a woman from the Midwest whose passion is to become a dancer but has to find work as a babysitter when she can't break into New York City's highly competitive dance world.
"The play's theme is a dark comedy because it will make you laugh and also think at the same time. It's funny but relatable," said Axial Theatre's Managing Director Jaki Silver. "It shows what life is really like. [It] gets in the way sometimes."
The one-hour 20-minute play was pitched a year ago by New York Stage and Film and Labyrinth Theater Company. Mostyn-Brown is a Labyrinth member. Her works have been produced and showcased by more than 25 theater companies across the nation, including The Public Theater, Guthrie Theater and Cherry Lane Theater.
Even though the story focuses on young adults, the show and the story is suitable for any age.
"We know that the themes of the play will resonate with both Westchester and New York City audiences on many levels," said Howard Meyer, Axial Theatre's founder and artistic director.
In addition to its productions, Axial offers classes for new actors learning their craft. Mount Kisco resident Adam Glatzl started taking Meyer's classes in 2008. In "The Rest of Your Life" he plays Harold, a father and husband who was fired from his job and now stays home trying to take care of his family. While his character has abandoned his dreams, Glatzl is pursuing his.
"I used to be a UPS driver before I rediscovered acting," Glatzl said. "I acted in high school, and then I found my passion at Howard Meyer's Class Program. New actors learn the crafts and the emotions of acting."
Axial presents two plays each year, one in the fall and another in spring. It also schedules student productions in January and August each year.
Prior to his current role, Glatzl has appeared at The Philipstown Depot Theatre in Garrison, the Pound Ridge Theater Company and Westchester Collaborative Theater in Ossining. He also does workshops for students.
St. John's Episcopal Church is located at 8 Sunnyside Ave. in Pleasantville. General admission is $20; $15 for seniors and students. There will be performances on Thursdays, Fridays and Saturday at 8 p.m. and Sundays at 4 p.m. through Nov. 3. For tickets and more information call 800-838-3006 or visit www.restofyourlife.bpt.me.