P'ville Pool House Renovation Delayed Until After Summer
We are part of The Trust Project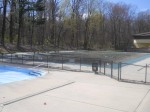 When pool season opens in Pleasantville, the exact same pool house, inside and out, will be standing.
After rejecting a bid and scrutinizing the renovations needed for the village's pool house on Lake Street, construction is expected to be delayed until after this year's swim season comes to a close, Village Administrator Patricia Dwyer said.
Officials originally wanted to complete the project's first phase prior to the pool's scheduled Memorial Day weekend opening, but only one bid was returned to the village and the price significantly exceeded what village trustees were willing to spend.
"It's very disappointing," Recreation Supervisor Linda Bellofatto said. "We could have accomplished a lot (over) the next few months, at least do part of the job, but that's not going to happen."
Phase One included a reconfigured office, lighting, painting and work on the exterior of the building. However, when the work went out to bid, the price tag was more than $150,000, anywhere from $25,000 to $75,000 over the initial estimate, forcing the board to reject the bid.
Dwyer said the plan going forward is to combine Phase One and Phase Two of the project and begin work after the season is completed in September.
Parts of the first phase are probably going to be excluded when the next bid is sent out to make sure the project is within budget, she said. Items that are likely to be eliminated include the exterior work to the building and possible upgrades to the ceiling for better lighting, Dwyer said. She estimated the cost of the entire project will be between $350,000 and $500,000.
Mayor Peter Scherer said he hopes that by putting both phases into a single bid the entire project will be less than if the village sent out two separate bids.
"Our real goal here is to figure out what the annual debt service will be for this and whether a pool fund can support that," Scherer said.
One option to help offset costs is to raise the pool membership and swim team and swim camp fees for 2014.
Trustee Mindy Berard said she anticipates an increase in fees but doesn't believe the hike should be a dramatic one.
"I think there's room to raise the membership fees just like there'd be over a normal cycle," Berard said. "However, I will say it's not the philosophy of this community, nor of any community I know, to use this as a user-fee financing."
While the board is still crunching numbers, there's little doubt work is required at the site. Berard and Bellofatto agreed the pool house needs substantial renovation. The village's old recreation center decayed to the point where it could not be salvaged for the public's use.
Berard said work probably was needed at the pool house for years prior to the village's recent effort to update the facility.
"Something has to get done," Bellafatto added. "Because if you don't spend the money now, then you'll be spending twice as much later."