P'ville MS Green Fair Expands Focus to Science and Math
We are part of The Trust Project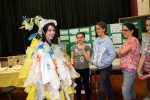 With spring weather gradually becoming a more familiar sight, Pleasantville Middle School held its fourth annual Earth Day Green Fair last week, giving residents a chance to better acquaint themselves with environmental issues.
Held in the school's gymnasium and cafeteria on April 11, more than 20 "green" groups from in and around the village flooded into the school, along with students from the Science and Math Olympiads. Principal Vivian Ossowski said the event made for a successful evening.
Previous fairs usually featured various groups presenting different initiatives to help promote ways to improve the environment, but this year Ossowski said the school went a step further by including students from the STEM (science, technology, engineering, and math) program who made presentations, many of which also had some focus on nature.
Additionally, the school's global awareness initiative was also part of the event, in which seventh- and eighth-graders worked to support orphanages in Russia by sending materials while fifth-graders raised money to help send students in Mexico to school.
"It's been a lot of work. It's been collaborative," Ossowski said. "…So it's really a wonderful way of bringing our entire community together to celebrate the Earth."
Helen Meurer, one of the community volunteers and event organizers, said the fair is a way for not only students but their families to be better informed. With some of that information and outreach lacking in the community, Meurer said the fact that the fair attracted visitors from the community is significant.
"I think people need to be empowered and they tend to think it's somebody else's problem," Meurer said. "But if you have groups like this get together, they can find things that appeal to them and make a difference in what works for them."
Some of the community figures on hand included Superintendent of Schools Mary Fox-Alter, Mayor Peter Scherer and Assemblyman Thomas Abinanti. In an impromptu address, Abinanti noted that the current generation of children is only "borrowing this Earth from their grandchildren" and it's important to preserve what remains.
"We have to act together to reuse, renew and recycle," Abinanti said afterward. "This is not our world to destroy, it's a place that we've been privileged to use and we have to leave it for those behind in better shape than we find it."
One presentation from a group of sixth-graders focusing on sustainability highlighted Abinanti's comments. They provided tips on composting, making double-sided copies, reducing use of plastic water bottles, buying locally and organically, unplugging unused electronics and utilizing reusable bags.
The added aspect of the STEM presentation also made residents aware of a growing group of district students interested in science and math. Four programs are new to the middle school: science, robotics and two math programs, said Martha Matteo, a village resident and one of the STEM leaders.
Matteo said having the science and math fairs run concurrently with the Earth Fair should help spread the word about the new programs. It also gave STEM students the opportunity to show residents what they have been working on.
"This is a publicity thing to educate others," Matteo said. "And to see if there's interest."