P'ville Looking Forward to Return of Sidewalk Sales Days
We are part of The Trust Project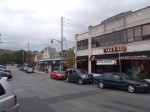 After a one-year hiatus, a fall fixture in Pleasantville is making an emphatic comeback.
The Pleasantville Chamber of Commerce is sponsoring a downtown Sidewalk Sales Days event Friday and Saturday. With more than 25 businesses signed up less than a week away, shoppers should be geared up for a variety of stores they can walk by and shop in during the two-day event.
"We have restaurants, we have yogurt places, we have retailers," Chamber of Commerce President William Flooks said. "We have everybody that wants to be involved and offer something to bring someone into their store is welcomed."
Matt Jaros, a chamber executive board member and event chair, said bringing an array of businesses together involved extensive coordination. The allure of this type of event usually makes it easy for retail shops and eateries to sign up without hesitation.
"It's always good when you can get a group of merchants together and offering something all at once," Jaros said. "You know, you get more attention that way."
Merchants have plenty to offer. Jaros' business, Glass Onion Originals, will have earring and women's t-shirts on sale. Families with younger children can stop by Try & Buy Toy Store where arts and crafts activities will be set up. Musical entertainment will be heard in the village throughout the two days.
"So you have a variety of stuff for a variety of people," Jaros said.
While Flooks said the event occurred years before he arrived in Pleasantville, last year's Sidewalk Sales Days never materialized. With the economy still floundering, Flooks said the decision was made to cancel. Now with economic conditions perking up a bit, Flooks said he'd like the businesses involved to get a boost heading into the holiday season.
And Flooks promises it'll be a well-publicized event. The village has posters scattered throughout the community, including a giant banner across Manville Road. The chamber is also advertising in The Examiner and The Journal News.
"We hope to bring a lot of people into Pleasantville that day to shop," Flooks said.
Rain or shine, Flooks and Jaros have high hopes that businesses will reap the benefits of a convenient place for residents to go this weekend. For those who don't live in Pleasantville, Flooks hopes the Sidewalk Sale will draw people to return to the village after the event ends.
"We're hoping for shine," Flooks said. "If it's raining bring your umbrellas and shop till you drop."