P'ville Honors Middle School Counselor as its Teacher of the Year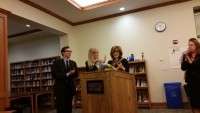 Barbara Brandenberg was shocked during last Tuesday evening's Board of Education meeting when her family entered the room to help present her a very special award.
Brandenberg, a Pleasantville Middle School counselor, was named Pleasantville's Teacher of the Year for 2015. It's an award bestowed annually to an exceptional educator in the district who exemplifies top leadership qualities, but one that Brandenberg never imagined she would be in contention to receive.
"I just never thought this would go to a counselor because I always think of the teachers who are in the classrooms," said Brandenberg, who was also surprised that her family was able to keep the secret from her when they met just two days earlier.
Superintendent Mary Fox-Alter described Brandenberg as caring, kind and compassionate who has a strong work ethic while passionately advocating for students.
Brandenberg, who has worked in the district for 20 years, explained that she came to her career later in life after finding her previous work to be unsatisfying. Despite the fact that she was told by many that she would never get a job at her age, Bradenberg returned to school in her forties to become a counselor.
Having watched former students grow up, she realized that she has made a difference in their lives.
"When we were young, we never thought about finding work that would make you happy; you find work that you can do to make a lot of money or something close to that," she said. "It's not about the money, but I've just met such amazing people."
In addition to being named Teacher of the Year by the district, Brandenberg was also presented with a proclamation from the village by Trustee Steven Lord declaring Apr. 29 Barbara Brandenberg Day in Pleasantville. County Legislator Michael Smith also presented her with a proclamation marking Apr. 30 as her day in Westchester County.
"The passion and the belief you have had in the students in this community, you are changing people's lives," Smith said.
Brandenberg, who will be retiring at the end of next month, said while she is looking forward to retirement, she will miss leaving her work and the students behind.
She said she will have to figure out what the next chapter in life holds for her. However, she has enjoyed her time in Pleasantville.
"I'm not the most brilliant person in the world, I know that, and I'm certainly not the most technology savvy…but I have loved every minute," Bradenberg said.